Lens Test: Zeiss APO Sonnar T* 135mm f/2 ZF.2
A new addition to Zeiss's line of manual-focus cinematic lenses, it's optically awesome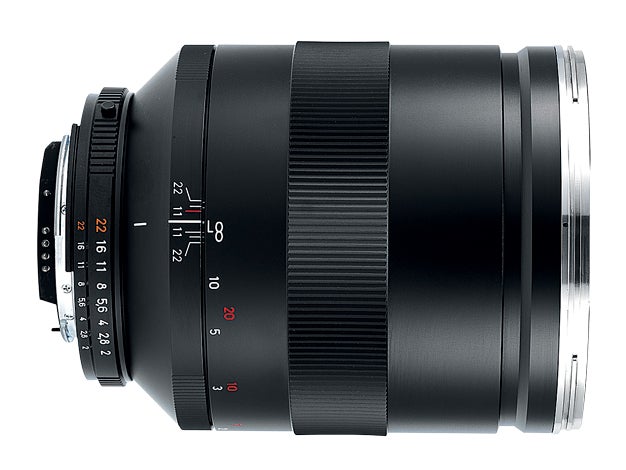 We may earn revenue from the products available on this page and participate in affiliate programs. Learn more ›
In 2007, the German optical giant Carl Zeiss began an aggressive move into high-speed, full-frame manual-focus lenses in Canon, Nikon, and Sony DSLR mounts. These appealed particularly to cinematographers, given their silky and quiet manual-focus action, as well as the distinctively soft backgrounds that f/1.4, f/2, and f/2.8 can deliver. Today, the line has grown to 13 focal lengths ranging from 15mm to this 135mm f/2 ($2,122, street). We tested the Nikon-mount version.
Like all ZA, ZE, and ZF.2 Zeisses, this lens has an all-metal barrel and is bulky for its class—the proverbial tank. It's 8 ounces heavier than the comparable Canon 135mm f/2 AF, for example, and the Canon has an AF motor. With its included lenshood in place, it measures 8.25 inches at close focus—about the same silhouette as a typical 300mm f/4 without a hood.
As you might imagine, one of the most notable features of this lens is its manual focus. The large focusing ring has a long turning action that is quiet and extremely smooth. The lens is surprisingly easy to focus, even in poor light, although its 260-degree turning radius is a little too long for our taste. In good light, the lens throws a colorful, distinctly high-contrast viewfinder image that pops crispy-sharp as you turn toward maximum focus. You really don't miss autofocus.
The handsomely finished barrel is well-marked with adequately sized subject distance and depth-of-field scales. Vestigial elements on our Nikon-mount version include a second set of ADR (aperture direct readout) markings that we haven't seen on a Nikon lens since the manual-focus era, and an infrared index mark for those still using infrared film.
This is one of the most consistently sharp lenses we have ever mounted on our test bench: From minimum to maximum aperture, all SQF results at our benchmark magnification (11×14) were in the mid-90th percentile. Its numbers in the middle apertures were not as high as the comparable Canon 135mm f/2 (approximately 97% on average), but the Canon dipped into the 80th percentile at minimum and maximum apertures. All its other optical metrics suggest a uniquely superior lens.
If you can deal with its absence of AF, its heft, and its price tag, this Zeiss is an excellent choice for products, still lifes, and especially portraits or video capture. Steer clear of action, where AF is a boon, and you will not be disappointed.
SPECIFICATIONS
135mm (135.55mm tested), f/2*, 11 elements in 8 groups; focus ring turns 260 degrees
Diagonal View Angle: 18°
Weight: 2.11 lbs Filter size: 77mm
Mounts: Canon, Nikon
Included: Lenshood
Street Price: $2,122
Website: zeiss.com
TEST RESULTS
Distortion: 0.03% (Imperceptible) pincushion
Light Falloff: Gone by f/2.5
Close-focusing Distance: 31.25 inches
Maximum Magnification Ratio: 1:3.81