Camera Test: Sony Alpha NEX-3N
Sony creates a new entry in entry-level ILCs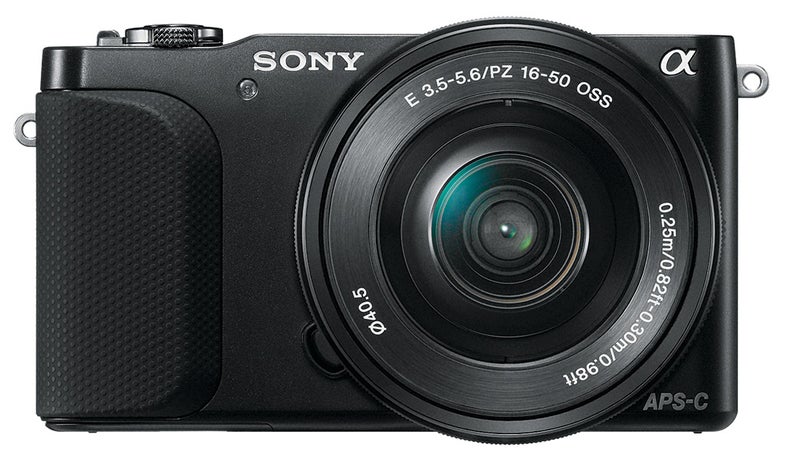 We may earn revenue from the products available on this page and participate in affiliate programs. Learn more ›
In light of the wide acclaim greeting Sony's current Alpha NEX line of interchangeable-lens compacts, it's easy to forget that the line had rather a rough start. But after overcoming early teething problems (notably a unique soft-button interface), Sony wowed the world with high-end and mid-level hits such as the NEX-7 and NEX-6.
The company now turns its attention to the entry level with the NEX-3n, whose major wow factor is unquestionably its price—a mere $498, street, with a 16–50mm f/3.5–5.6 power-zoom kit lens, making it one of the least expensive ILCs on the market today.
Not altogether surprisingly, this bargain price does show through in certain shortcomings, though. Are any of them deal breakers? We put the NEX-3n through its paces to find out.
In the Test Lab
At 16.1 megapixels, the NEX-3n's sensor is about 8 million pixels shy of the effective pixel count of Nikon's entry-level DSLR, the D3200 ($697, street, with 18–55mm kit lens), the current highest resolving entry-level interchangeable-lens camera.
Furthermore, the Sony doesn't make the most of the pixels it has, turning in 2070 lines per picture height at ISO 200 in our resolution test. This earns it a Very High rating on our scale—two rungs down the ladder from our top honors of Excellent, and closer to what we'd expect from a 12MP sensor.
Further depressing the NEX-3n's overall image quality rating (which takes into account resolution, noise, and color), the camera scored only an Extremely High rating in our color accuracy test—one notch down from the Excellent rating routinely earned by most DSLRs and ILCs today.
The breakout test for this Sony's performance in lab? Noise control: The NEX-3n keeps noise to a Low or better rating from its lowest sensitivity of ISO 200 up through ISO 3200. It reaches an Unacceptable rating at only its top sensitivity of ISO 16,000—better even than the Nikon D5200 tested in this issue. At that point, however, you'll definitely notice the smoothing that the Sony needs to keep noise to such a reduced level.
Still, we found it impressive that the NEX-3n lost only 70 lines of resolution from ISO 200 to ISO 800, where it turned in 2000 lines, still qualifying it for a resolution rating of Very High. As a result, the camera ended up with an overall image quality rating of High from ISO 200 through ISO 800 in our tests.
While particularly picky shooters might look at these results and sour on the NEX-3n, we should point out that these aren't the photographers for whom Sony is aiming with this camera. This is very much a consumer camera.
So, while color accuracy isn't spot on, it's still better than we used to get with consumer-grade color slide film. And if you don't plan on printing larger than 8×10 inches—or you will share your photos only through computer, tablet, or smartphone screens—the resolution will be more than adequate for you.
We may be hardnosed about test results here at Pop Photo, but we're also realists; we believe that for the casual shooter, low noise is likely more important than absolute color accuracy or extreme resolving power.
In the Field
With a more prominent grip than its predecessor, the NEX-3, the 3n provides more comfortable ergonomics than most less-expensive compact cameras. Sony is so intent on winning over compact camera converts that it included a rocker switch around the shutter release that can control electric zoom on E-mount lenses. With the kit lens, that leaves you three ways to control zoom: the rocker switch, the sliding switch on the lens barrel, and the multi-purpose ring at the front of the barrel. Though some shooters might scoff at a point-and-shoot-like rocker switch for zoom, we found it useful on some occasions, most prominently when we had no other safe option but to shoot one-handed. We also found it helpful for quickly zooming in or out to the extremes of the focal-length range.
One apparent compromise in achieving the low retail price is the 3n's LCD screen. While past NEX cameras have had monitors that can tilt both upward and downward, this 460,800-dot 3-inch LCD can angle only upward. Our more vertically challenged testers found this irksome at times during field testing, since it makes over-the-head viewing just about impossible. On the flip side, the screen lets you view and frame your shot at waist level, twin-lens-reflex style, a remarkably stable way to shoot that's also very convenient for video capture.
And video is one of this Sony's strengths. It can record at up to 1920x1080i60 in AVCHD format. The footage we captured was great for a camera in this price range. If you're used to a compact camera that can barely create a mediocre 720p video clip, the NEX-3n should impress you.
Autofocus speed was middling in comparison to other ILCs. In bright light, the NEX-3n focuses quickly and accurately; in dim light, it became a bit sluggish and sometimes didn't focus properly. While the inaccurate focusing didn't happen too often, it did give the camera a feel something more akin to a compact than an ILC on the level of Sony's excellent NEX-6.
While the 3n's anemic pop-up flash did occasionally come in handy for casual shots, it's not nearly useful enough to make up for the camera's lack of a hot-shoe. We'd gladly forego the pop-up for a Multi-Interface Shoe, which can accept many useful accessories in addition to flash units. (With its initial, and more expensive, entry-level NEX bodies, Sony originally provided a small accessory flash. It may be that consumer opinion, and not just costs, dictated the change now.)
Soccer moms and field-hockey dads shouldn't count on the NEX-3n to grab stunning bursts of their young sports stars. The camera operates as advertised in this area, but has a top burst of only 2.5 frames per second with metering and autofocusing on each shot. If you limit focus and metering to the first frame only, you can get up to 4 fps—okay for some action subjects, but still not the 5 fps we consider the minimum for sports. Furthermore, the buffer can hold only up to 9 JPEGs, 5 RAW images, or 4 RAW + JPEGs per burst before slowing down. At this price, of course, you shouldn't expect a camera for serious sports shooting.
The Bottom Line
If price has been the only thing keeping you from buying an ILC, you officially have no more excuses left. While the NEX-3n isn't the best ILC on Sony's roster, at this price it's worth every penny. Shooters used to sub-$500 compacts should be very pleased with what they get in this camera, and it's a solid entry point to the E-mount lens system, which has been steadily gaining steam since its inception. Moreover, the E-mount can be adapted to an enormous range of lenses in other mounts, including Sony's own DSLR A-mount.
If you remain unconvinced, or you want to opt for Micro Four Thirds, which still has the advantage of a wider variety of system lenses, the Panasonic Lumix GF5 and Olympus Pen E-PM1 remain solid alternatives to the NEX-3n. Both of these are becoming long in the tooth, and while this helps them compete in terms of cost, they may not be on the market much longer. So for now, we'd say the Sony NEX-3n is the high point of the low price point.
SPECIFICATIONS
IMAGING: 16.1MP effective, APS-C sized CMOS sensor captures images at 4912×3264 pixels with 12 bits/color in RAW mode
STORAGE: SD, SDHC, SDXC stores JPEG, ARW RAW, and RAW + JPEG files
BURST RATE: Full-sized JPEGs (Fine mode), up to 9 shots at 2.5 fps; RAW, up to 5 shots; RAW + JPEG, up to 4 shots; when using a UHS-I compatible SD card
AF SYSTEM: TTL contrast detection AF system with 25 selectable focus areas; single-shot and continuous AF
SHUTTER SPEEDS: 1/4000 to 30 sec, plus B (1/3-EV increments)
METERING: 1200-zone TTL metering, evaluative, centerweighted average, and spot (size not specified). EV 0–20 (ISO 100)
ISO RANGE: Stills, ISO 200–16000 (in 1-EV increments); video, ISO 200–3200 (in 1-EV increments)
VIDEO: Records at up to 1920x1080i60 (24 fps progressive available) in AVCHD format; built-in stereo microphone; no microphone input; maximum clip length 29 min 59 sec
FLASH: Built-in pop-up flash, GN 20 (feet, ISO 200), covers 16mm (24mm equiv.) field of view
VIEWFINDER: No viewfinder
LCD: Upward tilting 3.0-inch TFT with 460,800-dots; 5-level brightness adjustment
OUTPUT: Hi-speed USB 2.0, micro HDMI BATTERY: Rechargeable NP-FW50 Li-ion, CIPA rating 480 shots; video shooting time approximately 1 hour 50 min
SIZE/WEIGHT: 4.4×2.5×1.4 in., 0.6 lb with a card and battery
STREET PRICE: $498, with E-mount 16–50mm f/3.5–5.6 PZ lens
INFO: store.sony.com