New Gear: Vincent Laforet's MoVI Handheld Stabilization Rig
The newly announced MoVI is almost unnatural in just how well it keeps video stable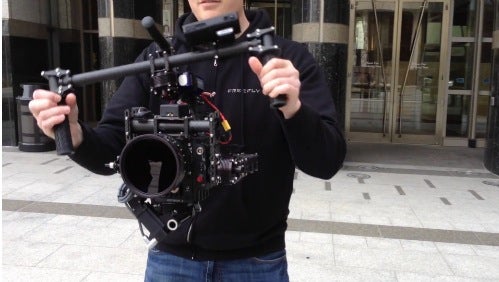 Vince Laforet has just announced something rather impressive over his blog — a new video stabilization system that if it lives up to its promise, could be a major game changer in the world of steadicams. The newly announced MoVI is a hand-held, three-axis, gyroscopic stabilization rig, being built by Freefly Systems.
Billed as completely silent, the first iteration of the device will be called the Movi M10. With a $15,000 price tag, it weighs just 4lbs, can be transported in a suitcase, and can hold up to 10lbs of gear. There's also a smaller, M5 edition in the works that'll go for half that, around $7,500.
All these descriptions and numbers don't mean much compared to the final result, and thankfully Laforet and Freefly have put out a number of videos showing just what the MoVI rig can do. There's a short film, a BTS, and a very quick look at what the rig looks like to use.
MōVI from Vincent Laforet on Vimeo.
MōVI BTS from Vincent Laforet on Vimeo.
MōVI in Action (Quick Video) from Vincent Laforet on Vimeo.
Check out around 2:50 in the BTS video to see something pretty phenomenal: a camera-man rollerblading and shooting one-handed, and with the video still coming out silky-smooth.
While $15,000 isn't pocket change, it is a relatively sane amount of money for a major piece of cinematographic hardware — and it's much smaller and lighter than a traditional steadicam rig.
Prototype devices will be shown at the NAB conference in Las Vegas next week, but we haven't heard any hard information about when they'll be for sale. Judging by the amount of excitement this announcement has garnered, there might be a bit of a waiting list when they finally do come out.