New Gear: Panasonic GF6 Entry-Level ILC
Panasonic's new DMC-GF6 is a low-end Micro Four Thirds with Wi-Fi, NFC, and an articulated touchscreen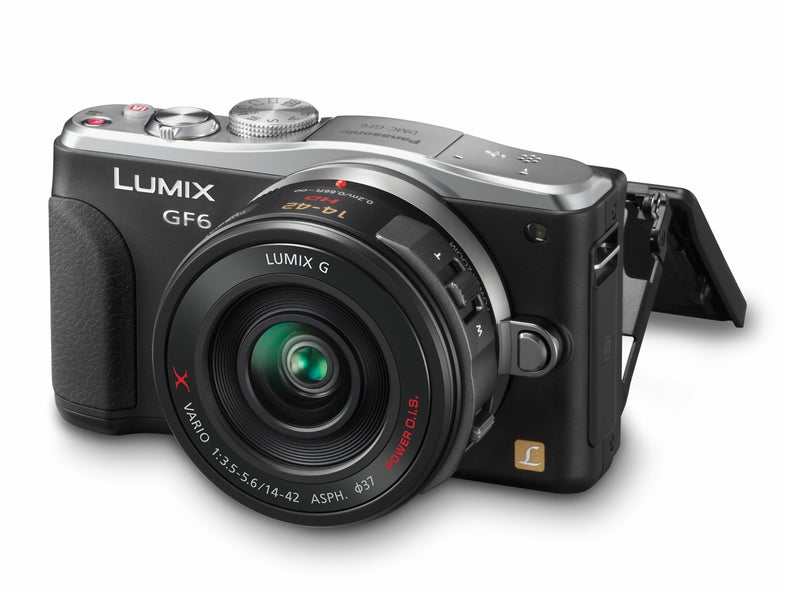 Panasonic has announced a refresh of its low-end ILC offering, revealing the new Panasonic DMC-GF6. While we don't know when the camera will be available, nor at what price, it seems Panasonic has put a lot into connectivity within this camera, giving it both Wi-Fi and NFC — the latter being a first-time-appearance in any camera we've seen.
The Panasonic GF6 will feature a new 16–megapixel Live MOS Sensor, and a newly developed engine to push the maximum ISO to an extended 25600. The GF6 also features a speed boost, with Panasonic claiming it takes just 0.5s to shoot after startup, and a new, faster Low Light AF tool.
Billed as the most compact GF camera yet, the GF6 packs a vertically articulated 1040K-dot touchscreen LCD that can be flipped around for self-shots. The camera even has a dedicated self-shot mode, along with a dizzyingly wide array of "Creative Control" modes, including Creative Panorama and Stop Motion Animation. It also has regained a mode dial, which was lacking from its predecessors, as well as a compact style zoom ring around the shutter. When attached to non-powered lenses, this dial can instead be used to control exposure compensation.
The GF6 not only packs a Wi-Fi chip, but also includes Near Field Communications (NFC). This technology allows for two NFC devices to communicate by proximity. In this case, simply tapping your camera against a NFC-enabled smartphone or tablet will transfer images directly between the devices. Pretty sweet!