New Gear: LockCircle Prime Circle Cine Lenses with Remote Control Aperture
These prime cine lenses can be controlled from across the room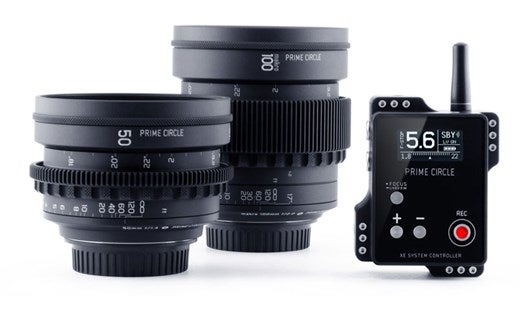 We may earn revenue from the products available on this page and participate in affiliate programs. Learn more ›
LockCircle has just unveiled the Prime Circle XE at NAB 2013. This set of cinema prime lenses offer something we haven't seen before — remote controlled aperture. The Prime Circle XE System will be available in 10 different focal lengths from 10mm to 135mm, including "makro 50 and makro 100mm.(sic)", and each of the lenses aperture setting can be altered from up to 300 feet away using a remote control system.
Unfortunately, LockCircle's website is currently struggling under the interest this new product has garnered, so we can't delve too deeply in the details. According to the press release, the lenses carry Carl Zeiss optics, with large focus scales for focus pullers, and a 95mm front mount for the entire range.
The Prime Circle XE will be available on Canon EF mount, with the XE wireless controller. But LockCircle will also offer XE System intelligent mount adapters for FZ and Micro Four Thirds mounts, which will allow the lenses on other systems. However, these require a separate, XE-Z controller.
The XE Controller allows for up to 18 hours of shooting on a single charge, and allow for focus checking, live view switching, and recording control.
It's not clear what wireless protocol this system uses for controlling the lenses, and LockCircle has yet to indicate when they'll be available, or at what cost.