Chrome Camera Bag: Niko Pack Review
This all-black camera bag is built to last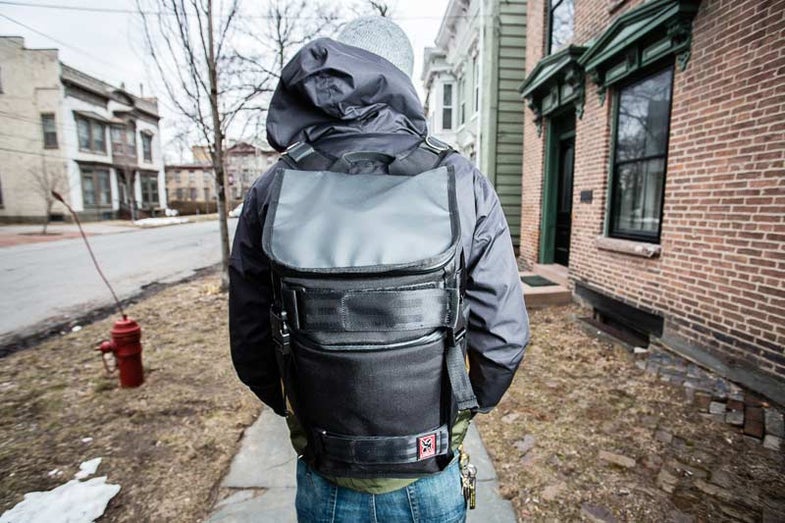 We may earn revenue from the products available on this page and participate in affiliate programs. Learn more ›
Cyclists and city-dwellers have been using Chrome camera bags for years, but they're still relatively new to the camera bag game. Their latest bag, the Niko Camera Pack, is the biggest in their photographic line and is just as tough as you'd expect, but it's not without its drawbacks.
What is it?
The Niko Camera Pack is essentially a day pack. The top compartment is designed for accessories and personal belongings, while the bottom compartment is meant for camera gear. There's also a padded laptop slot along the back of the bag that can fit a 15-inch MacBook Pro.
Construction
Chrome camera bags have a reputation for being extremely hard to kill and the Niko is no exception. The outer shell is made from weatherproof nylon and the burly urethane zippers keep out moisture on a level up there with adventure-specific camera bags. The sturdy straps are pretty much the perfect width. They're thick enough to be comfortable even without a lot of padding, but they don't twist every time you put the bag on, like other day packs I've tested.
I thought the exterior might be easy to scuff or snag, but even when I intentionally trying to rough it up, it proved extremely resilient. The buckles are plastic, but strong, and there are metal D-rings on the front of the straps for attaching accessories.
Fit
The Chrome camera bag sits high on the back as you'd expect for a pack that's geared toward cycling. I actually prefer it that way. The padding in the back panel is vented to help prevent the dreaded sweaty back syndrome. The chest strap is a great addition and helps keep the bag in place, but it sits a bit too high on the chest for my taste.
Adjusting the shoulder straps is done with a pair of extremely sturdy and effective metal clasps. They hold very strong, but are easy to move around once you release them.
Overall, it's one of the more comfortable camera bags I've carried.
Pockets
The top of the bag is a single pocket with a small pouch made of netting at the back. While you can fit a fair bit of stuff into it, the front lip of the pocket is too short, so if the bag tips over when it's not zipped, you can expect all of your stuff to go flying out onto the ground. The netted pocket is nice, but is really small. It's only big enough to fit a couple of cables and maybe a few batteries.
The laptop pocket is accessed through the main accessory pocket, so you have to unzip the entire top if you want to get your laptop out. The padding is sufficient, though, and it's a secure fit, which is important.
Other than the camera storage area (which I'll get to in a moment), that's it for pockets. If you like simple, that should be fine. But if you're the type to give everything its own assigned area, you might be left wanting.
The main camera compartment is big enough to hold a body, a flash and a couple lenses. The initial configuration is a bit awkward, perhaps lending itself a bit better to a DSLR video rig than a whole still photography setup. The pocket itself is deep enough to fit a pro DSLR or a DSLR with a lens attached, which makes it a little awkward for a standard-sized DSLR.
The smaller, square compartments easily fit a lens or a flash, but the fit isn't exactly tight, so things can shift a little in transit. The back of the bag has two strong Velcro straps that can hold either a tripod or a skateboard.
Protection
There isn't quite as much padding as I'd expect in a bag meant for moving around at relatively high speeds, but once everything is all packed up, it does feel secure. Even when the pack was banging around getting on and off the train, things felt secure. That said, I'm curious how it would fare in a hard fall from a bike or even a drop from an overhead bin.
Access
You can set up the this Niko Chrome camera bag so you can access your camera body from either side of the bag, but rather than opting for three different openings like many other bags of this style, Chrome has opted for one long zipper and a pair of clips. It's fine if you're just trying to get your camera out, but if you want to get to the main compartment, you have to unzip and unclip the whole thing. It's a slightly cumbersome process which is augmented by the extra effort required to undo the burly zippers.
Looks
I'm a huge fan of the all-black look, but if you're looking for something flashy, this definitely isn't your bag. Another huge plus is that it doesn't necessarily look like a camera bag. Any time you can go out without screaming, "I'm carrying a sack full of expensive equipment" is a plus in my book. It does stick out a bit far, though, so it's not entirely inconspicuous.
Who should buy it?
At $180, the Niko Chrome camera bag is at the high-end for day packs when it comes to price, but it will likely last for years and years, even with heavy abuse. In fact, it's guaranteed for life, so you don't have to be gentle with it. When it comes to carrying camera gear, it's not the most elegant solution, but it's extremely effective, and I expect the next version to be even better. From a style standpoint, you'll likely decide right away whether you love it or hate it, and that might be enough to justify the purchase price right off the bat.