New Gear: SLR Magic Monster Lens II 12-36×50 ED Spotting Scope
That's the equivalent of 840-2520mm on a Micro Four Thirds body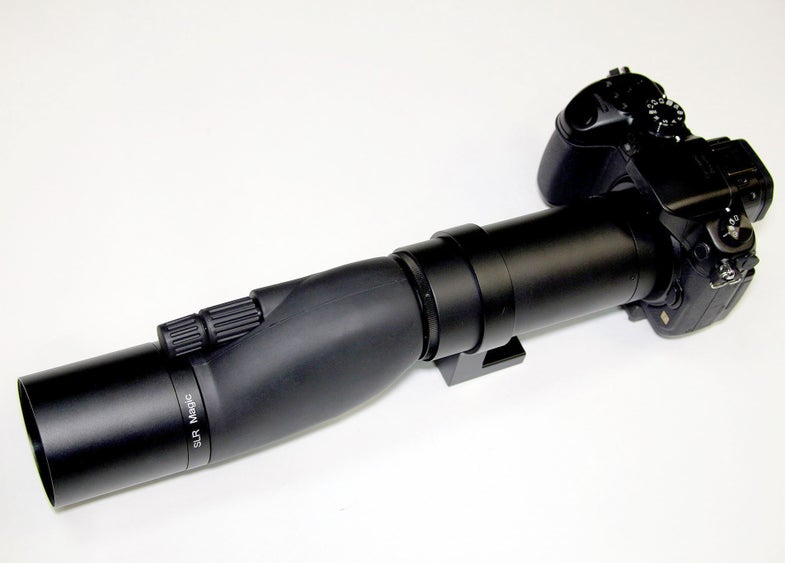 We may earn revenue from the products available on this page and participate in affiliate programs. Learn more ›
Digiscoping is a term for attaching a digital camera to a tele- or spotting scope, giving you extremely long zooms at a much lower price than you'd pay for a telephoto lens. SLR Magic has announced a new digiscoping setup, the aptly named SLR Magic Monster Lens II 12-36×50 ED Spotting Scope for Micro Four Thirds cameras.
This is the second edition of the Monster Lens, and apparently an optical improvement over the older version thanks to a new Micro Four Thirds mount that provides boosted sharpness and contrast. It featuers Extra-low Dispersion optics, and Multi coated glass. This lens has the equivalent focal length of 840-2520mm, and has dual focus controls, for both gross and fine focus adjustments. It'll set you back $799, and will be available in the USA from June of this year.
Obviously, this lens isn't designed to take the place of a dedicated telephoto zoom lens, but instead is for wildlife watchers who would like the option of being able to photograph what they've seen. For a bit of a look at how digiscoping and telephoto lenses compare, LensRentals did a comparison last year that's worth reading.
[via DPReview]