New Gear: Canon PowerShot SX280 HS Advanced Compact With New Digic 6 Image Processor
Long zoom and lots of processing power make this a formidable little compact camera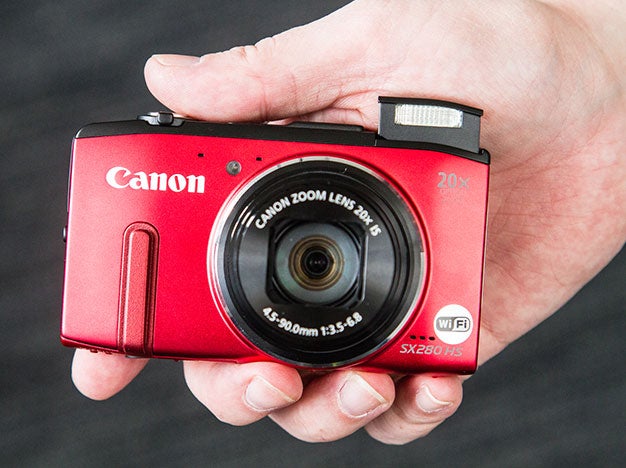 We may earn revenue from the products available on this page and participate in affiliate programs. Learn more ›
You don't often see the big camera makers debut their new processing chips in compacts, but that's exactly that Canon has done with their new Digic 6 chip and the 20x optical zooming SX280 HS.
Because of that new processor, the SX280 HS is capable of pulling down full-res 12.1-megapixel images from the High-Sensitivity CMOS sensor at 14 fps. It can only keep up that pace for .5 seconds, though, which means you'll get a burst of seven images in a half-second. Video mode has also gotten a bump, maxing out the video capture resolution at 1080p with 60 fps.
Like many other compacts at the moment, the SX280 HS has built-in WiFi, allowing it to play nice with the iOS and Android apps, as well as send images directly to the web or to a compatible Canon printer.
The 20x optical zoom lens reaches from a full-frame equivalent of 25mm all the way out to 500mm. Of course, there's IS in the lens to help combat lens shake and the max ISO has been jacked up to 6400.
It's coming in April for $329. It still has a true compact-sized sensor, but with all the other features and the new processor, we're curious to see how it performs against similarly-priced competitors.
FULL PRESS RELEASE BELOW
MELVILLE, NY March 21, 2013– Fusing portability with high-quality image technology, Canon U.S.A., Inc., a leader in digital imaging solutions, today announced the new 12.1-megapixel PowerShot SX280 HS Digital Camera with built-in Wi-Fi® technology and an impressive 20x Optical Zoom lens. Amazingly compact, the PowerShot SX280 HS digital camera is the first Canon camera to feature Canon's DIGIC 6 Image Processor, the most advanced processor to date, delivering incredible detail and fast continuous shooting performance.
"Canon recognizes the importance of capturing the highest quality images possible and sharing them instantly and easily," said Yuichi Ishizuka, executive vice president and general manager, Imaging Technologies & Communications Group, Canon U.S.A. "The PowerShot SX280 HS Digital Camera with its impressive features provides users the resources to shoot in almost any situation and the creative tools to help capture their vision."
**Share Great Images Wirelessly **
The PowerShot SX280 HS digital camera's Wi-Fi® connectivity offers users connectivity options to share their beautiful images. With the download of the free Canon CameraWindow app1 from an Android TM or IOS® store, users can connect to both iOS® or AndroidTM smartphones and tablets2 to wirelessly transfer photos and videos from their camera to their device. This camera also has the ability to connect directly to social networking sites and to Canon's iMAGE GATEWAY3, making photos easily accessible and ready to share. In addition, the PowerShot SX280 HS digital camera has the ability to connect wirelessly to computers, select PowerShot wireless cameras, and wireless PictBridge4 compatible printers, such as the PIXMA MG6320 and MG5420 Wireless Photo All-In-One printer models. 2
Powerful and Versatile 20x Optical Zoom Lens Providing users the ability to capture images with stunning quality, the PowerShot SX280 HS digital camera features a 25mm wide angle lens and impressive 20x optical zoom (up to 500mm) providing versatility in a pocket–sized camera. At wide angle, the PowerShot SX280 HS digital camera is ideal for capturing lasting memories of family and friends at get-togethers as well as stunning landscapes. The lens' super telephoto reach allows photographers to bring subjects in close and is perfect for capturing images at sporting events, distant nature scenes and wildlife in their natural habitat.
**Exceptional Images and Fast Performance **
The PowerShot SX280 HS digital camera is packed with a variety of impressive imaging features that help ensure moments are preserved in stunning quality. In conjunction with the PowerShot SX280 HS digital camera's 12.1-megapixel High-Sensitivity CMOS image sensor, the DIGIC 6 Image Processor creates the Canon HS SYSTEM. This system is responsible for the PowerShot SX280 HS digital camera's improved low-light performance up to ISO 6400, with minimal noise and maximum detail.
In addition, the PowerShot SX280 HS digital camera features advancements in Canon's Auto Focus (AF) system with improved AF times and reduced lag over previous SX-series models. The responsive high-speed AF helps users to capture great shots as they happen, with reduced lag time. Adding to the camera's diverse feature-set is High-Speed Burst HQ which allows for continuous, fast-action, high-resolution shots at up to 14fps. With incredible zoom capabilities, fast and responsive AF, stunning resolution and easy-to-use features, the PowerShot SX280 HS digital camera is the perfect camera for vacationing or capturing a morning soccer game.
Further advancements attributed to DIGIC 6 Image Processor can be experienced in movie mode, which records in MP4 format. For added flexibility, the PowerShot SX280 HS digital camera allows you to shoot video in a selectable frame rate of up to 60 fps or up to 30 fps resulting in smooth and rich 1080p Full HD video. Users will also notice improved image stabilization with Dynamic IS, which detects and can compensate for tilt and parallel movement (shift blur) to help create improved video clarity.
Simplicity and Convenience The PowerShot SX280 HS digital camera offers a variety of easy-to-use features that help take the guesswork out of capturing captivating, imaginative photos. With Smart AUTO, the camera identifies an ideal image setting by intelligently selecting from one of 58 pre-defined modes. To combat blurry images, the PowerShot SX280 HS digital camera utilizes its Intelligent IS system, which draws from six different stabilization modes to choose the best IS for the current shooting condition. The Intelligent IS system, combined with Smart AUTO creates the camera's Hybrid AUTO mode which helps create a beautiful and steady HD video clip (up to approximately 4 seconds) in Movie Digest mode every time a user shoots a still image while the Movie Digest mode is activated.
Adding to the camera's diverse feature set, the PowerShot SX280 HS digital camera is also equipped with a built-in GPS receiver5, and when activated, data is recorded along with each image. Users can easily access the location where their photos were taken without depending on their often vague post-vacation memory. The built-in GPS receiver not only records the exact location of the shot, but users can create a visual log of their journeys on a map using the bundled Canon software.
To further help ensure that an image is never missed, the PowerShot SX280 HS digital camera comes equipped with ECO mode to assist with battery conservation. ECO Mode manages the 3.0 inch, 461k LCD screen brightness and turns off when the camera is inactive. ECO Mode can be activated for easy power preservation when an additional battery is out of reach or the moment is too exciting to put the camera down. 3
Pricing and Availability The PowerShot SX280 HS digital camera is expected to ship in April 2013 for an estimated retail price of $329.99.