Lowepro Flipside Sport AW 20L Camera Backpack Review
An adventure bag that's tough, but smart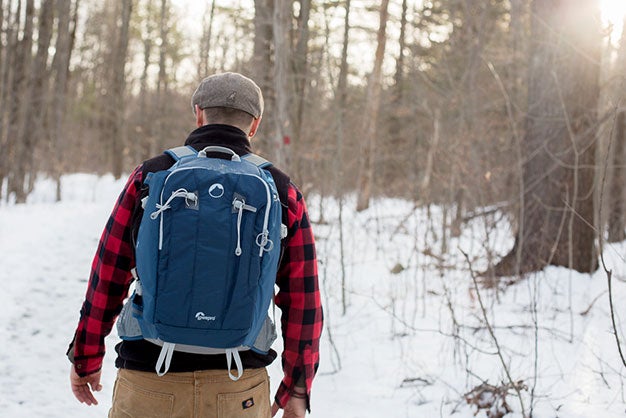 We may earn revenue from the products available on this page and participate in affiliate programs. Learn more ›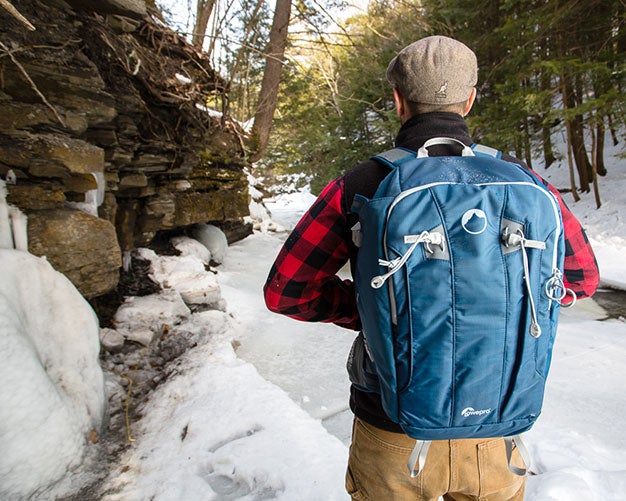 Lowepro Flipside Sport AW 20L Camera Backpack Review Main
Adventure-oriented backpacks make up one of the hottest segments of the camera bag market at the moment. The Lowepro Flipside Sport AW 20L is the newest addition to their outdoor line. We took it into the woods and through a variety of different shooting situations to see if it's as big on brains as it is on toughness.
What Is it?
This is the biggest rig in the Flipside Sport family. It's built to hold a pro-grade body with a 300mm lens attached and still leave room left over for plenty of other gear. As the AW designation suggests (it stands for All-Weather), it's also meant to keep things inside safe from the elements.
The Gear Compartment
Lowepro has always done an excellent job when it comes to making their padding customizeable. Off the rack, this it comes with a whole pile of modular velcro pads that let you arrange the interior in literally thousands of different ways.
It could easily carry a 300mm lens attached to a body, but that's not part of my normal kit, so I filled it with a 70-200mm lens on a body and still had room for an extra camera, three lenses, a few flashes, and some accessories in the main compartment alone. I was actually a bit surprised because the bag doesn't actually seem that big from the outside.
The main pocket is also deep. It's easily big enough to fit a pro camera like the Canon 1D X or the Nikon D4. It's so deep, in fact, that you could stick a flash in there standing upright for maximum storage. It depends on the flash, and it might not be the safest way to carry your light, but it gives you an idea of how deep the compartment is.
The other pockets
Because the main compartment is so roomy, the other pockets tend to be pretty flat, making carrying oddly shaped things like umbrella clamps a bit of a challenge. There are a lot of pockets, though, including a pair of surprisingly spacious pockets on the front of the bag. There's also a zippered pouch on the flap where the main compartment opens. It holds a lot, but it can be a little tricky to find exactly what you're looking for because it's made of opque nylong. I would've liked to see them make the pocket out of the see-through material they use in some of their other bags.
Because the gear pocket is so deep, there's also no good place to put a laptop. There's an ipad pocket in the front, which could also probably hold a MacBook Air if you really felt motivated to cram it in there, but there's not a ton of padding around it. In all fairness, though, not many folks are bringing a laptop on adventures, so it makes sense.
The tripod pocket is on the side of the pack and uses two flaps as well as two sturdy clips to keep things in place. It takes a bit of getting used to, but once you figure out the placement, it's pretty simple to get things where they need to be. Stretchy cords have spoiled me a little. Having the extra weight on one side of the bag rather than in the center of your back can make carrying it a bit awkward, but that's necessary for the bag to open as it should.
There's also a hydration pocket I found very handy. It fits a decent-sized bladder and has a clip on the strap for securing the mouth piece. At this price, it would've been cool if the bladder was included, but that would be more of a bonus than anything else.
Fit
Lowepro clearly put a lot of work into the fit of this bag, taking into consideration the fact that shooters might be wearing it all day on tough treks. The straps are wide, but flat, so they're easy to put on, even over a big jacket while wearing gloves. The padding on the back is also a logical shape to make it comfortable while allowing ventilation.
For even better breathability, Lowepro made the straps and the back panel out of mesh and put air channels in the padding to give sweat and heat a way out. It really does make a difference when you're wearing it. I even noticed it when shooting a grappling tournament in a sweaty gym.
The combination of the chest strap and the waist strap make it one of the sturdiest fitting packs I've encountered. Once you're all strapped in, it doesn't move, which is what you want. Not only does a jangling bag jostle your gear, but it's also a source of pain for your back.
I'm 6-feet tall (that's not me in the picture) and I found the waist strap to sit a little high. It's more of a stomach strap for me. That's clearly just a product of the size of the bag, but if I were much taller, it might become an issue.
Accessibility
As with all the Flipside bags, the flap for the main gear compartment is on the part of the bag that sits against your back. Because of that, you have to take the shoulder straps off in order to get at your gear. You can either set it on the ground or use the waist strap to support the entire bag and swing it around to the front of your body. It's a process that takes a little getting used to, and, again, if you're tall, can be a little awkward. Still, it's nice to have the option not to have to set it all the way down.
But, I've been putting my camera backpack on the ground to get out my gear for years now, and it immediately became apparent how much better that is when the opening is on the back. Now, the part that's touching me doesn't get filthy from the ground. If you want to keep the bag itself looking clean, you can also put on the rain cover before you put it down. Smart.
Protection
Adventure bags need burly padding, and this fits that bill to be sure. The padding actually feels a little thicker in this bag than it does on street-oriented bag, which is reassuring. Even the interior padding units are a bit thicker to keep individual pieces of gear from bonking into one another.
I took it on a couple hikes and on some demanding indoor jobs and everything remained safe and secure. The outer pockets could possibly use a little more protection, but that's almost always the case with camera backpacks.
Construction
The outside of the bag is made from rip stop nylon, as you'd probably expect. Because of that, it sheds water like a champ. I snagged it on some branches, scraped it against some rocks, and did all the other things you'd expect to do when you're out on the trail and it came out looking brand new. Impressive.
While the actual bag is built burly, some of the details aren't constructed to be quite as tough. The zippers aren't as burly as you might expect, and they don't have a big flap going over them to ensure that the elements stay outside the bag. I didn't break one or have any issues with water getting in, but if I had to pick the point I predict the bag to break first, that would likely be it. The plastic clips on some of the straps could also stand to be a little beefier.
Overall, however, the whole thing is extremely sturdy.
The rain cover is also excellent. It's attached to the bag at the bottom and fits very easily into an integrated pocket. You take it out, snap it over the bag and that's it. Impossible to lose. Easy to take out/put away. Plus, you still have access to your main gear pocket because it's on the back. Perfect.
Looks
If you're looking for a discrete bag, this certainly isn't it. You can pick bright blue or even brighter orange. Good for visibility on the trail, but bad if you're just walking around. You'll likely either like the look or hate it. I like it, but hey, it's function over fashion anyway. Especially in the wild.
Who should buy it?
If you're only occasionally dabbling in adventure photography, this bag might be overkill. But, sometimes overkill is what you want. You can easily bring an entire kit and be reasonably sure it will be totally safe, even if you're not. The $180 price tag isn't cheap, but it's also not out of the normal range for an adventure pack. It's even cheaper than the more hardcore bags that have things like metal rails in them.
If you need to carry a lot of gear out into the wild, it's a great option. Just be sure to try it on before you buy.