Video Head: The Action Cam Built Into A Helmet
Helmet cam, indeed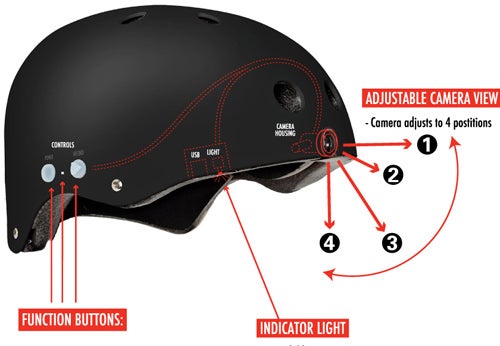 We may earn revenue from the products available on this page and participate in affiliate programs. Learn more ›
With GoPro and Contour still the reigning kings of action cameras, manufacturers are having to come up with increasingly novel ways of pushing into this already crowded sphere. Enter Video Head helmets by C-Preme, which do exactly what they say on the tin. They're video recorders built into a helmet — and they'll be available this Spring.
According to GearJunkie, the helmet cameras will be available in three different resolutions: VGA for $64.99, 720p for $119.99, and HD for $199.99. The camera will point out directly from the front of the helmet, with controls towards the rear, and a USB port and indicator light built in.
The big question with a hybrid device like this, is if it will be any decent at being both a helmet and a camera, or if by splitting the difference, the company has made something mediocre. You can see an example of some of the footage in the video above, but what about protecting your noggin? Will the helmet be good enough to keep your head (and the camera) safe through multiple impacts? C-Preme do have a background in making protective gear — but for the children's market, and action sports folks do tend to be a bit harder wearing than your average eight year old. Also, there's no information if the Video Head is at all water- or dust-proof, which might limit its usefulness.
[via Gizmodo]