Photoshop 1.0.1 Source Code Released Free Online
Want a real retro blast? Try using the very first version of Photoshop, ca 1989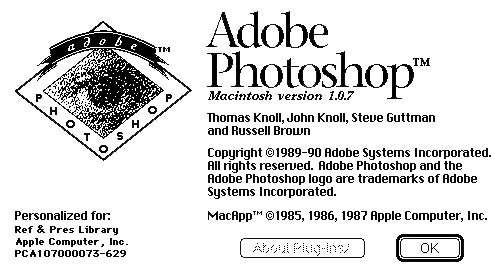 We may earn revenue from the products available on this page and participate in affiliate programs. Learn more ›
Released to the public in 1989, no one would have pegged the original Adobe Photoshop as the basis of what would become an image editing powerhouse. Available only for the Macintosh, the Photoshop 1.0 is a very long way from the incredibly advanaced program it has become today. This source code of this incredible piece of digital history has been released free online through the Computor History Museum, and is there for anyone to download.

While the pixelly, duo-tone app is very different from what we're used to using on a day to day basis, you can still see the origins of much of the way Photoshop functions now. The familiar layout of the toolbar on the left, and the surprisingly complex selection and filtering tools. It wasn't until later versions that Photoshop got its key feature of layers, but here is the start of the modern image editing app.
Hopefully, since this is a source code release, someone will compile it and put it online so that we can actually play around with it, and try and edit our photos on a 24 year old piece of software.
[via Engadget, images from CreativeBits]