New Gear: Super-Affordable Impact Slave Flashes
If you're lighting on a budget, $20-$30 for each slaved strobe might sound mighty appealing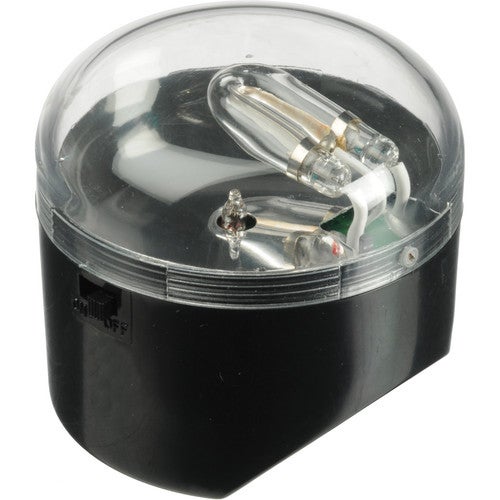 We may earn revenue from the products available on this page and participate in affiliate programs. Learn more ›
Setting up lighting for your studio can rapidly become extremely expensive — but there are some options out there for those trying to strobe on a budget. Impact, a B&H house brand, has just enveiled a line of remarkably affordable slave strobes, with prices ranging from $17-$28 per unit.
The SF-DTW24 Mini Dome (above) and SF-DTWX24 Mini Dome are near identical, with the former packing a sync cord. They're powered by AA batteries, weigh just 3oz, and blast a 120° beam of light. You can either lie them flat for a dome of light, or tilt them for a more controlled burst, especially against a wall. The 4-6 second recycle time won't win any awards though, and the built-in slave circuit runs for a range of 33 feet (10m).

The Impact SF-DSXN70 (that's it there) and Impact SF-DSXN40 both have hotshoe mounts and curious little kickstands, so you can use it off camera, too. Both strobes are rated for 200 flashes, but the DSXN40 uses two AA batteries to the DSXN70's four — which gives the latter a guide number of 80′ (24.4 m) @10′ (3.0 m), ISO 200, as opposed to 40′ (12.2 m) @10′ (3.0 m), ISO 200.

The SF-AE56 and SF-AE80 avoid the need for batteries by mounting into a standard lighting fixture, and drawing power from the mains — so you could easily install them in clamp lamps for a mobile photography setup. Both lights can be fired in slave or master mode, thanks to using a sync outlet, and both have a two second recycle time. The AE80 differentiates itself with a higher guide number of 80 @ 10′ (3.0 m), ISO 200, compared to 56 @ 10′ (3.0 m), ISO 200.
Finally, there's the SF-DTN40, which includes a sync cord, or can be used as a slave. It weighs just 3oz, has a built-in diffuser, and has a guide number of 40′ (12.2 m) @10′ (3.0 m), ISO 200, with a relatively tight beam angle of 40°.
Based on some of the comments floating around about these announcements, a number of these strobes have been around in one form or another for many years, generally sold under house brands. With a bit of digging around eBay you could probably find them without the "Impact" logo. Nonetheless, for a $30 purchase, these are almost worth buying just on the off chance you might need them.
[via Lighting Rumors, the Phoblographer]