Camera Test: Leica M Monochrom
This unique digital rangefinder from Leica shoots exclusively in black-and-white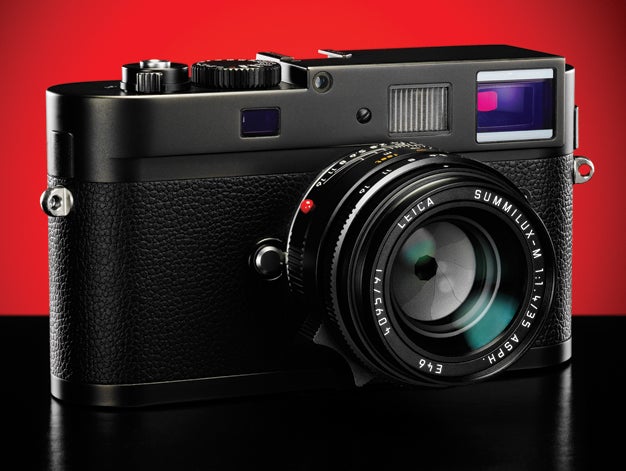 We may earn revenue from the products available on this page and participate in affiliate programs. Learn more ›
As this issue was being prepared for publication, the Guggenheim Museum in New York was showing an excellent special exhibit called "Picasso Black and White." Last year, the silent black-and-white film The Artist won the Oscar for Best Picture. And now Leica has given the world a serious digital camera designed to shoot black-and-white exclusively, the 18-megapixel M Monochrom ($7,950, street, body only).
Besides its unique sensor, the Monochrom has other properties that set it apart: Like its siblings in Leica's M series, it sports a bright optical rangefinder and focus is manual-only—no autofocus here. Forget about such newfangled features as video and a live-view LCD (you'll have to wait for the new Leica M for those). And its tough, all-metal body can stand up to all the abuse the most aggressive street photographer might subject it to.
But we already knew all that. Now, after our battery of evaluations under controlled conditions in the Popular Photography Test Lab, we can at last report on how well the M Monochrom captures its many-shades-of-gray images.
In the Test Lab
One of the main points of limiting the Monochrom to black-and-white capture was to do away with the Bayer color filter array that sits atop the sensors in Leica's previous digital bodies, as well as in its new M and ME rangefinders. The hope: By eliminating the Bayer array from the optical path and allowing every effective pixel on the Monochrom's sensor to be represented without the interpolation that goes along with the Bayer color process, the camera would create images with greater resolving power.
And, indeed, the Monochrom did outresolve the Leica M9 in our resolution test, though not by a whole lot. When we tested the M9 for our December 2009 issue, it turned in 2675 lines per picture height at its lowest sensitivity of ISO 80 in our resolution test. The Monochrom, at its lowest setting of ISO 160, resolved 2800 lines in our test when no noise reduction was applied.
When we applied 100% noise reduction in Adobe's Photoshop Lightroom 4 (which comes with the Monochrom, along with Nik Silver Efex Pro 2), clearly overkill on an ISO 160 image, resolution dropped to 2650. That's pretty good for an 18MP sensor, but it doesn't represent an earth-shattering amount of added sharpness over its elder sibling. (The new ME is essentially a rebadged M9, so our comparisons here can likely be used to compare the Monochrom to the ME, as well.)
As it did with the M9, the inclusion of Lightroom—and Leica's use of Adobe's DNG format in lieu of a proprietary RAW format—turned our usual noise test on its head. We typically use the manufacturer's default noise reduction setting when converting RAW images for testing. In this case, we ended up running the noise test five times over—at 0%, 25%, 50%, 75%, and 100% noise reduction. In this report, we include charts for the results from 0%, 25%, and 75% because these seem to provide the most useful information.
One of the Monochrom's advantages in eliminating color from the sensor is that you have to worry only about luminance noise, which can be reduced quite effectively in Lightroom 4. As a result, the resolution lost to noise reduction never exceeded 100 lines in our lab tests when we restricted the noise-reduction setting to 75% or lower. We found that we were able to keep noise to Acceptable levels (per our rating scale) for all ISOs with it set to 75%. Obviously, your subject matter and desired look for your photos will dictate how much you would employ for any given image.
However, it's nice to know that even at ISO 6400, with 75% noise reduction applied, the Mono-chrom still maintained an Excellent rating in resolution with 2530 lines. Even at ISO 10,000, with 100% reduction, the Monochrom delivered 2290 lines.
Chances are you won't use such a heavy hand. The noise in images from the Monochrom appears as an extremely fine grain that may not be objectionable in some scenarios. Furthermore, since noise tends to diminish a bit when images are printed, finished photographs from this Leica, especially at medium or small sizes, might not need much noise reduction at all. The image in Showcase was captured at ISO 6400, had no noise reduction applied, and we think it looks wonderful as it is.
In the Field
If you are familiar with Leicas, then you basically already know how it feels to shoot with the M Monochrom. If you haven't used a Leica, you're in for a treat. The bright frame in the rangefinder is indeed bright, so focusing manually is a joy. With the disappearance of split-image focusing screens in SLRs, it's an all-too-infrequent pleasure to have some visual reassurance that you're focusing correctly. The downside to not looking through the lens is that you have to pay close attention to your metering—don't forget to take the lens cap off.
The Monochrom's finder is parallax-corrected and has framing lines that display in pairs for 35mm and 135mm, 28mm and 90mm, or 50mm and 75mm lenses. As long as you use lenses with Leica's proprietary 6-bit code, the body will automatically select the appropriate framing lines in the finder. You can also select them manually through the menu.
As is always the case with Leica, and more recently with the Fujifilm X–Pro1, there's no built-in diopter. If you need, or simply desire, to correct the finder for your vision, you'll have to buy a new eyepiece, which will set you back about $100.
Shooters used to all the information displayed in a DSLR's viewfinder might feel this display a tad sparse. Rangefinder fans will likely counter that much of the info you get with a DSLR is unnecessary when shooting with this kind of camera. We acknowledge this, but it would be nice to have info such as ISO and memory card capacity in the finder, and it would be an improvement on Leica's already great products.
Without color, video, or autofocus, there's not a whole lot to adjust on the M Monochrom. One of the few things you can do is add color toning to your JPEGs. You can select from Sepia, Cool, and Selenium effects at one of two intensity levels. We typically add things like this after the fact, but it's nice to see them here and, depending on the subject matter, we might actually use them on occasion.
Speaking of color toning, we should mention that this black-and-white camera outputs its JPEGs in the sRGB color space. Furthermore, you can choose from any color space that Lightroom supports when converting from RAW. This opens up opportunities for photographers who like to experiment with mixing color layers from different images to create fantastic effects.
Bottom Line
If you enjoy shooting black-and-white film with a rangefinder, and if you have the means to purchase the M Monochrom, it certainly deserves your consideration.
Leica sometimes conducts events where curious shooters can give its cameras a try. If you're on the fence, it would be a good idea to avail yourself of such an opportunity. Just be sure that your bank account can handle the cost of this camera, because you might just fall in love with the M Monochrom the way we did. We wouldn't want you to wind up as heartbroken as we felt the day we had to send our borrowed test sample back.
SPECIFICATIONS
IMAGING: 18MP effective, full-frame CCD sensor captures images at 5212×3468 pixels with 14 bits/color in RAW mode.
STORAGE: SD/SDHC slot stores JPEG, DNG RAW, and RAW + JPEG files.
BURST RATE: Full-sized JPEGs (Fine mode), up to 8 shots at 2 fps; RAW (12-bit), up to 8 shots at 2 fps.
SHUTTER SPEEDS: 1/4000 to 8 sec, plus B (1/2-EV increments); shutter life not rated.
METERING: TTL metering, center-weighted at working aperture. EV 1–21 (ISO 320).
ISO RANGE: ISO 160–10,000 (in 1/3-EV increments).
FLASH: Hot shoe; Sync to 1/180 sec.
VIEWFINDER: Bright-line frame type with automatic parallax compensation, 0.68x magnification, and 47.1mm effective rangefinder base. Indicators simulate field for 35/135mm, 28/90mm, or 50/75mm lenses; manual or auto (6-bit) selection.
LCD: 2.5-inch TFT with 230,000-dot resolution; 5-step brightness adjustment.
OUTPUT: USB 2.0, mini HDMI video, composite video, analog audio, and Wi-Fi.
BATTERY: Rechargeable 14464 Li-ion, CIPA rating 350 shots.
SIZE/WEIGHT: 5.5×3.2×1.5 in., 1.4 lb with a card and battery.
STREET PRICE: $7,950, body only.
INFO: www.leica-camera.com