Photojournalist Creates Marksta, an iPhone App For Watermarks
You can photograph and edit your image from your iPhone — so why not add a watermark while at it?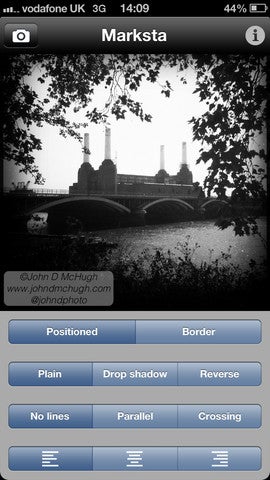 Fed up with his images being stolen on the internet, photojournalist John D McHugh enlisted the help of a programmer to make an easy to use watermarking app just for the iPhone. Rather than forcing you to go via a computer app, McHugh wanted an app that could be used by anyone, regardless of skill, and without the need to transfer the images onto a desktop or laptop. So he created Marksta.
The app is currently iPhone only, with an iPad version in the works, and is temporarily available as a free download. The app gives you a lot of control over your mark, offering everything from a single line of text to graphic logos; adjustable sizes, fonts, and opacities; borders; drop-shadows; lines; and more.
Talking to BJP, McHugh said ""Obviously, I can put a watermark in Photoshop on my laptop, but that means I have to have my laptop, I have to be able to download my pictures to my laptop, and I also need a fairly expensive programme and a certain amount of knowledge to do that – my wife can't do that, and a lot of my friends can't do that."
So now your workflow can look something like: photograph with Camera+, edit with Snapseed, watermark with Marksta, and then upload to your webservice of choice. Without ever having to leave your iPhone.