New Gear: Vanguard Unveils New Tripods, Heads, Bags at CES 2013
On the floor of CES, Vanguard released a new set of legs, pistol-grip ballhead, video kit, and bag set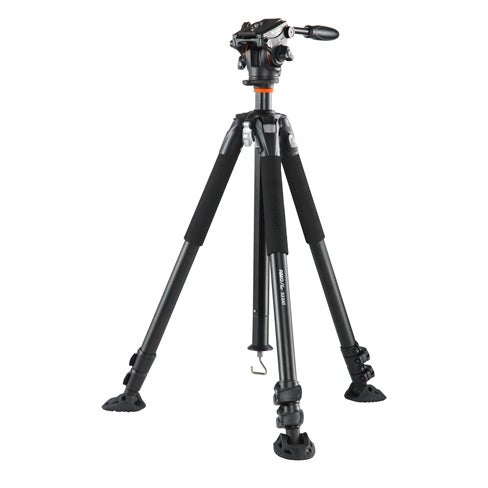 Vanguard has unveiled even more additions to their already enormous line of products, unveiling more legs, heads, kits, and bags. The big announcement is the ABEO Pro 283 tripod, which will be available in both aluminum and carbon fiber, with prices ranging from $399.99 – $549.99 in a kit. The ABEO Pro line features the adjustable Multi-Angle Central Column for repositioning for unusual angles, quick adjust legs, and 3-in-1 All-Terrain feet with rubber, spikes, and snow/sand shoes.
The ABEO Pro 283 kits will come with the GH-300T pistol-grip ballhead, which features a built-in shutter-release remote, allowing you to fire off shots while holding the tripod head — not the camera. According to Vanguard "the GH-300T employs a universal 2.5 mm DC shutter release cable input jack and comes with two cables compatible with 80 percent of DSLRs on the market." Rated for 17.5lbs, the GH-300T will set you back $199.99 on its own.
For the videographers in the crowd, Vanguard also announced the ABEO Plus 323AT kit, with PH-123V video head for $379.99. It features smooth pan and tilt functions, and the head allows for adjustable drag tension. Rated for 17.5lbs, the PH-123V also features 1/4″ and 3/8″ attachment capabilities.
Finally, Vanguard announced the Vojo line of camera/video bags, which will retail from $119.99 – $159.99. These feature removable inner support for your camera, as well as a section for a laptop or tablet, as well as personal items. There's also a zipper in the top-flap, which will allow you to rapidly access your gear.