Lens Test: Nikon AF-S 24–85mm f/3.5-4.5G ED VR
Third time's the charm for Nikon's latest version of this full-frame kit zoom lens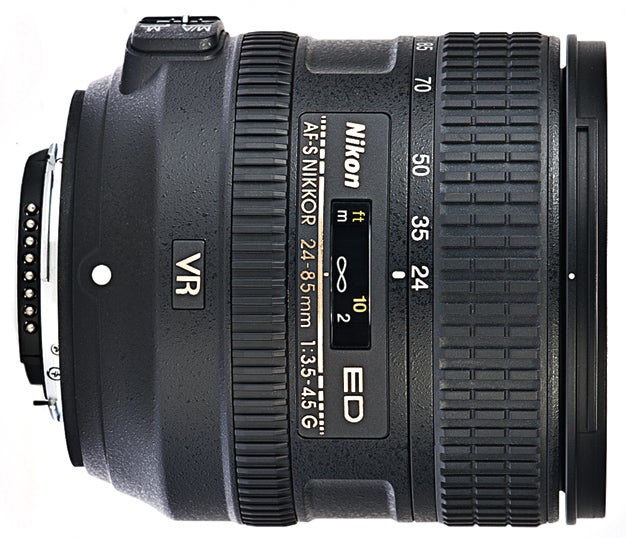 We may earn revenue from the products available on this page and participate in affiliate programs. Learn more ›
Launched in June 2012 and now a kit lens for the Nikon D600, this full-frame 24–85mm f/3.5–4.5G AF-S ED VR ($597, street) is Nikon's third version of its 24–85mm lens and the first with Vibration Reduction. It has one element of expensive low-dispersion (ED) glass, three aspherical elements, a weather-resistant O-ring around the lensmount, Nikon's SWM autofocus motor, and the M/A "manual-priority" mode that allows for manual-focus touchup when the lens is set to autofocus.
The build is excellent, the surfacing attractive, and turning actions for the focus and zoom rings are smooth, even, and slop-free. AF? Quiet, accurate, and fast. Weighing just over a pound, the lens is light and fairly compact. (It casts a shadow from the D600's pop-up flash only at the widest focal length and closest subject distance.) Its nonrotating barrel takes 72mm filter-ring accessories.
On our optical test bench, it delivered Excellent-range SQF numbers for sharp and contrasty images. (Oddly, its numbers averaged slightly below those of the previous 24–85mm AF Nikkor.) In our DxO Analyzer 4.1 tests, it produced Visible-range distortion at all three tested focal lengths (barrel at 24mm, pincushion at 50mm and 85mm), high by today's standards. Still, these numbers beat its predecessor by more than a factor of 2. (To compare, Canon's discontinued 24–85mm f/3.5–4.5 scored better for sharpness, but had off-the-charts Very Visible 2.9% barrel distortion at 24mm.)
The new Nikkor's vignetting control—falloff until f/5.6 at 24mm and 85mm, and none at 50mm—also handily beat the previous version. Its 1:3.63 maximum subject magnification was about the norm for kit lenses. So was VR: At 85mm, our testers averaged 2.5 stops of extra handheld shooting.
This versatile zoom is wide enough on full-frame bodies for group shots and tight interiors. It scales up to 36–128mm on Nikon's DX (APS-C) bodies for wildlife and stadium sports on the long end.
By kit lens standards, the price may seem high. But it costs nearly $1,300 less than Nikon's 24–70mm f/2.8, an arguably comparable lens that's also twice as heavy and offers no VR. So to us, $600 seems pretty reasonable.
SPECIFICATIONS
24–85MM(24.75–84.98mm tested), f/3.5–4.5 (f/3.18–4.76 tested), 16 elements in 11 groups. Focus ring turns 130 degrees. Zoom ring turns 70 degrees. Focal lengths marked at 24-, 35-, 50-, 70-, and 88mm.
DIAGONAL VIEW ANGLE: 84–28°.
WEIGHT: 1.09 lbs.
FILTER SIZE: 72mm.
MOUNTS: Nikon AF.
INCLUDED: Lenshood, case.
STREET PRICE: $597.
WEBSITE: nikonusa.com
TEST RESULTS
DISTORTION: At 24mm, 0.61% (Visible) barrel. At 50mm, 0.44% (Visible) pincushion. At 85mm, 0.46% (Visible) pincushion.
LIGHT FALLOFF: At 24mm, gone by f/5.6. At 50mm, none. At 85mm, gone by f/5.6.
CLOSE-FOCUSING DISTANCE: 12.91 inches.
MAXIMUM MAGNIFICATION RATIO: At 24mm, 1:9:29. At 50mm, 1:5:20. At 85mm, 1:3:63.
IMAGE STABILIZATION: 2.5 stops.