The Best Google Chrome Extensions for Photographers
There are no shortage of extensions and apps for Google Chrome — but which of them are any good for shutterbugs?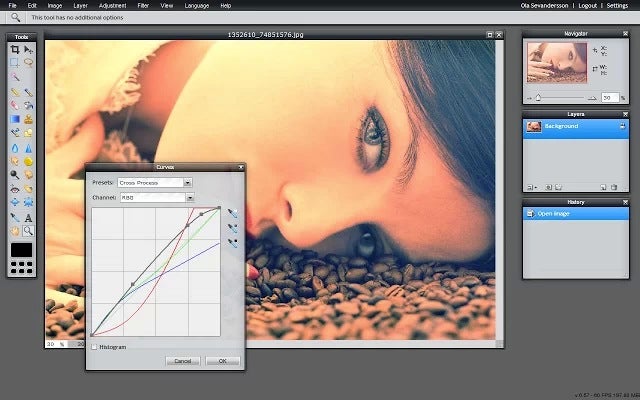 Like most modern browsers, Google Chrome offers a bewildering array of various extensions, plugins, and apps, for everything from playing games to social networking. But, if you're a photographer, are there any that are worth the effort of installing? Depending on what you're looking to do, there are a handful that should make life just a little bit easier for you.
Image editing:
Look, it's not going to replace Photoshop, but there are a number of image editors that you can easily install on Google Chrome for quick fixes and tweaks. Perhaps the best known and most widely used are a trio of editors from Pixlr, that offer differing levels of control and power. They have Pixlr-o-matic, Pixlr Express, and Pixlr Editor, in ascending order of complexity. Pixlr-o-matic is your Instagram-like, faux-lomo, add filters to all your images app. Not exactly high-end, but people really like it. Pixlr Express allows for quick editing of photos with a number of tools and effects, in line with low-end image editors. You can tweak contrast, blur and deblur, throw on some filters, and call it a day. Pixlr Editor is the most advanced of the lot, and presents an interface pretty well known to anyone who's spent a bit of time behind Photoshop or GIMP. All three of these apps are also available as webapps through Pixlr's website.
Image zooming:
**
**
Frustrated with the small size of in-line images when browsing the internet? One of the more popular types of Chrome extensions are those that allow you to easily magnify images on your screen, blowing them up to the point where you can actually appreciably see the image. They tend to work by loading a higher-resolution version of the image when you mouse-over, which lets you get a better view without needing to click through to that image's specific page. There are a bunch of these plugins floating around, including Photo Zoom for Facebook, +Photo Zoom for Google+, and Hover Zoom for just general browsing.
Plugins for other services:
A large number of these Chrome extensions deal with making your browser play more nicely with website that you might hit frequently. These come in all sorts of shapes and sizes, and with a bit of searching you can probably find one for just about any website on the planet. Here are a handful that you might find useful.
Despite recent turmoil, Instagram remains ludicrously popular. The Instagram for Chrome extension allows you to see Instagram images better from your browser, and also allows you to easily look at other photos by the same user, find popular images, and even see what filters they used. Some of its features were made redundant by the expanding web presence of Instagram proper, but with more than 800,000 users, there's obviously something of merit here.
Unsurprisingly, Google's own Picasa service has excellent Chrome integration. The Chrome extension allows you to more quickly and easily access all the controls and tools that Picasa usually has, including tagging, sharing, and more.
The Lytro camera made a very big splash in 2012, and while not yet widely spread, you can bet some people discovered one under their Christmas tree. The team at Lytro have put together two extensions to allow direct support for embedding and interaction with Google+ and Pinterest.
Flickr users aren't ignored — there are a number of extensions to interact with what's still the most popular photo sharing site on the planet. One of the more popular is Flickr Activity, which will quickly notify you of the activity going on on your images. It simply tells you when people comment and favorite your images, and is much more convenient than going back to the website to check constantly.
Pixable is aimed at people who do most of their image viewing and sharing over Facebook. It links in to your Facebook account, and gives you a feed of the images that people are sharing. It'll show you images that have been uploaded, changes to profile pictures, and more. It even ranks the images based on popularity, so arguably you'll see the better ones first.
A large number of photographers have moved to Google+ as their social network of choice, but still like to keep their toes dipped in others. Rather than having to go through the tedium of uploading and sharing each of your updates and images to each service individually. Extended Share for Google+ allows you to do it all from inside Google+. It adds a "share on" button, which includes Twitter, Facebook, Tumblr, Pinterest, Reddit, and more.
General Tools:
**
**
It's an unfortunate reality that image theft is rampant on the internet. Search by Image is an official Google plugin that allows you to easily perform a reverse image search. Once it's installed, you can right click on an image, and look for duplicates of it on Google. If you have an image that you want to see if it's being shared without your permission, this will help you track down where it's being posted elsewhere.
Occasionally, you'll want to be able to scrape a website for all its pictures. Maybe you're quitting a site after they sneakily changed their ToS into something you didn't like, and don't want to spend hours saving each image individually. Image Downloader does what it says on the tin — it bulk downloads all the linked images from a specific website. Easy as that.
There are also a number of plugins for getting information on images online. Between Image Size Info, Exif Viewer, and Image Histogram, you'll be able to pull a huge amount of information from any image you want. There's a fair amount of overlap between the plugins, but in conjunction you should be able to access the image's size, all the pertinent shooting information, geolocation, and a histogram. That should give you plenty of fodder to figure out how a beautiful image was shot and presented.
Between all of these plugins and extensions, there should be something there for most photographers and photo lovers. Did we miss out your favorite extension? If so, let us know in the comments!