Review: Tether Tools Look Lock Smartphone Holder For DSLRs
It's one time you won't mind a child staring at a screen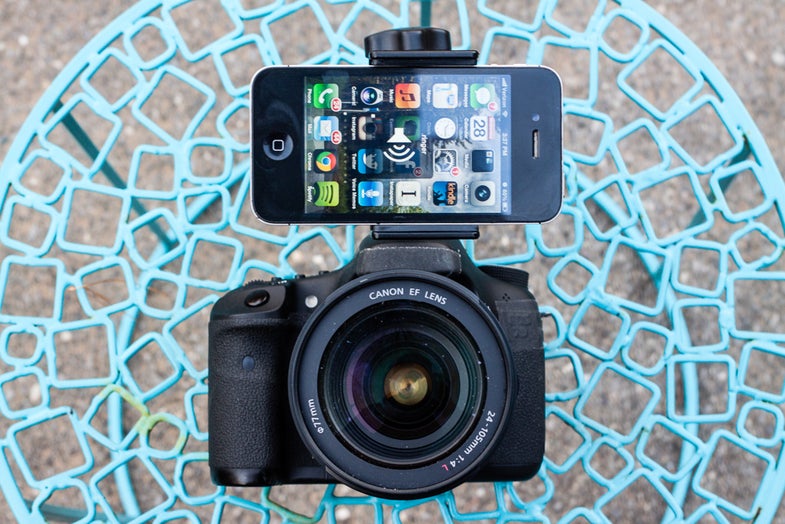 We may earn revenue from the products available on this page and participate in affiliate programs. Learn more ›
The eyes can make or break a portrait, which is one of the reasons photographic children can be so challenging. They constantly want to look away. The Look Lock tries to remedy that by suspending a smartphone directly above the front element of the lens. You can show a video of the child's favorite character or a picture of a parent and the kid won't be able to look away. Sounds great, but does it work? Yeah, actually it does in the right situations.
What is it?
A system of articulating arms attaches to your camera via metal plate that slides into the hot shoe. I tested the shorter 7-inch version, but there's also an 11-inch version to be used with longer lenses. I tested it with an iPhone 4, but the spring-loaded jaws open wide to accommodate most phones, so unless you have something super-giant like the Galaxy Note, you should be fine.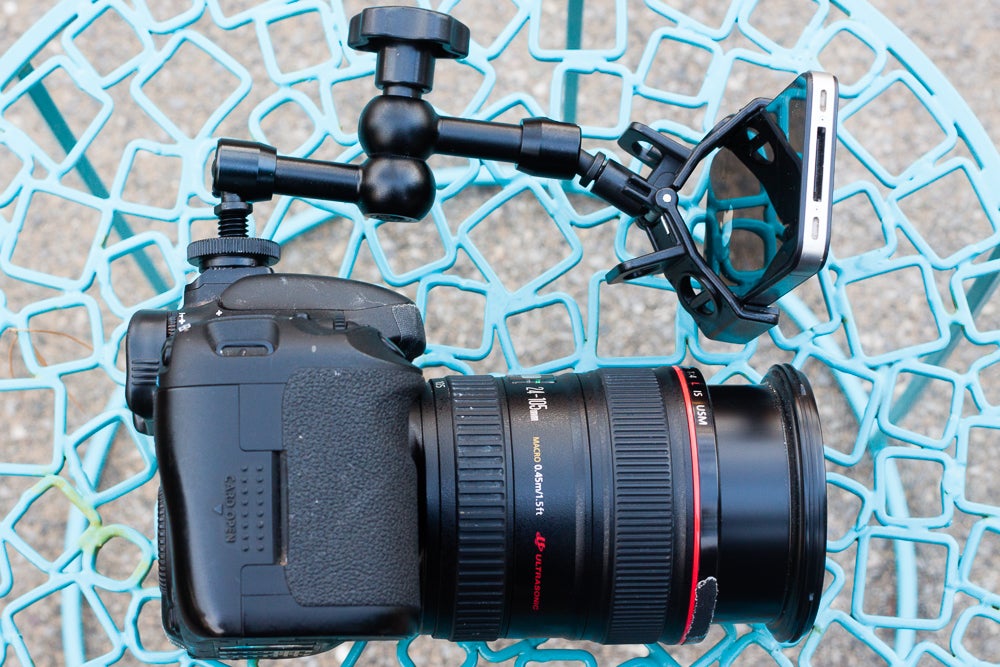 Pluses
Putting the thing on the camera is really simple. It honestly takes less than 10 seconds to set it up completely and securely, which is important when your'e dealing with a subject whose mood can change in two seconds.
The 7-inch version turned out to be just about the perfect length for the 24-105 F/4L lens I was using on the Canon 7D. If you're going to use something like the 70-200 F/2.8, you'll probably want to opt for the 11-inch version.
Now, the important piece: It really does work. I tried it during a family portrait job I was hired to shoot and while it wasn't really necessary for the older kids, the toddlers were mesmerized by it and it held their attention. And because the phone sites so close to the lens, their gaze really does look straight on (in most cases, but I'll get to that in a minute). It beats the look you have mom or dad standing over your shoulder. I had similar results with a quick test I did on my dog, but she lost interest even more quickly than the kids.
When it's all locked in, it feels extremely sturdy and doesn't wiggle as long as you tighten down the bolts sufficiently, which isn't hard to do. I'd expect it to last quite a while.
Using it
When you're using a typical portrait lens, the smartphone sits close enough to the lens that the eyes look straight on. If you're using a wide angle lens, though, you can start to notices that the child is looking slightly up. While you probably wouldn't be using a 35mm equivalent lens to shoot many straight on portraits like this, it is something to keep in mind. See the example below.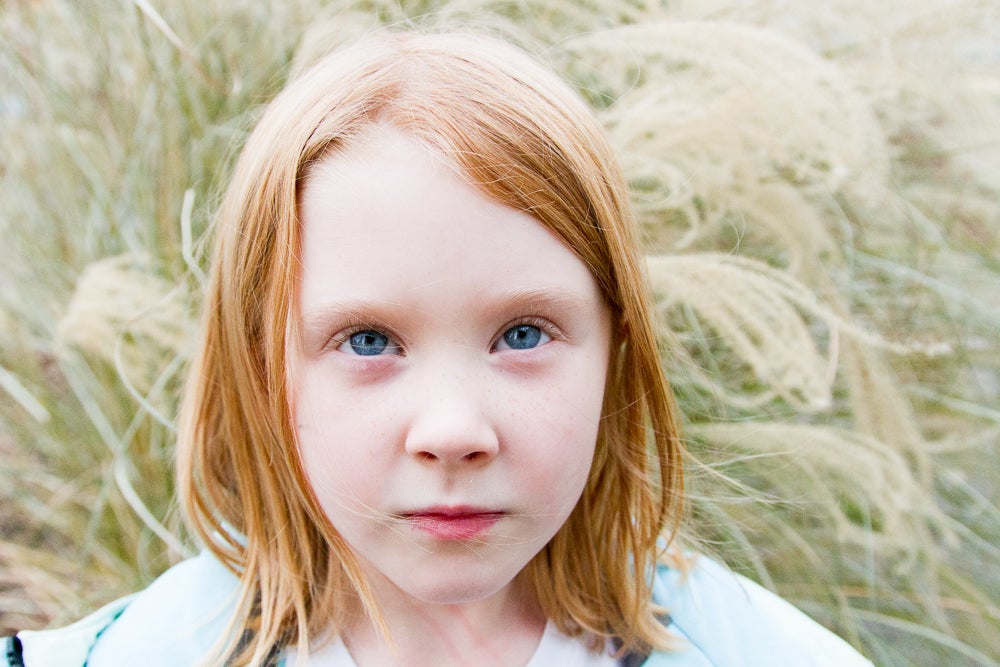 You also can't leave the phone in the clamp and expect to walk around with the camera slung around your neck. The grippy surfaces keep the phone pretty secure but it will slide and it's definitely possible to bump it and send the phone flying to the ground. During normal shooting conditions, it's absolutely fine, but you'll need to be careful.
The press material says you can use a child's favorite app to get their attention, but I don't recommend it. Apps are meant to be touched, so you'll likely end up with a bunch of photos where the little subject is reaching out for the lens. That might be what you want, but it might also be frustrating, so plan on using a movie or a picture.
Minuses
The one draw back to using a movie is that sometimes the child can get caught up in watching what's on the screen. That can result in a dull expression and they may stop doing kid-like things all together, which can derail a shoot. That's more a matter of timing than anything else, though.
Since the arm takes up your hot shoe, using flash with it takes a bit of configuring. If you're using a Pocket Wizard or something like that, it might be even trickier so make sure you have a strategy if you plan on using flash.
What else does it do?
By turning your phone around, you can also use it to shoot video while you're shooting stills, which is kind of a cool idea actually. It's not something I'd likely ever do for a client shoot, but if it's a kid's birthday party and you want both a video of the Birthday Song and a photo of him or her blowing out the candles, it's not a bad solution.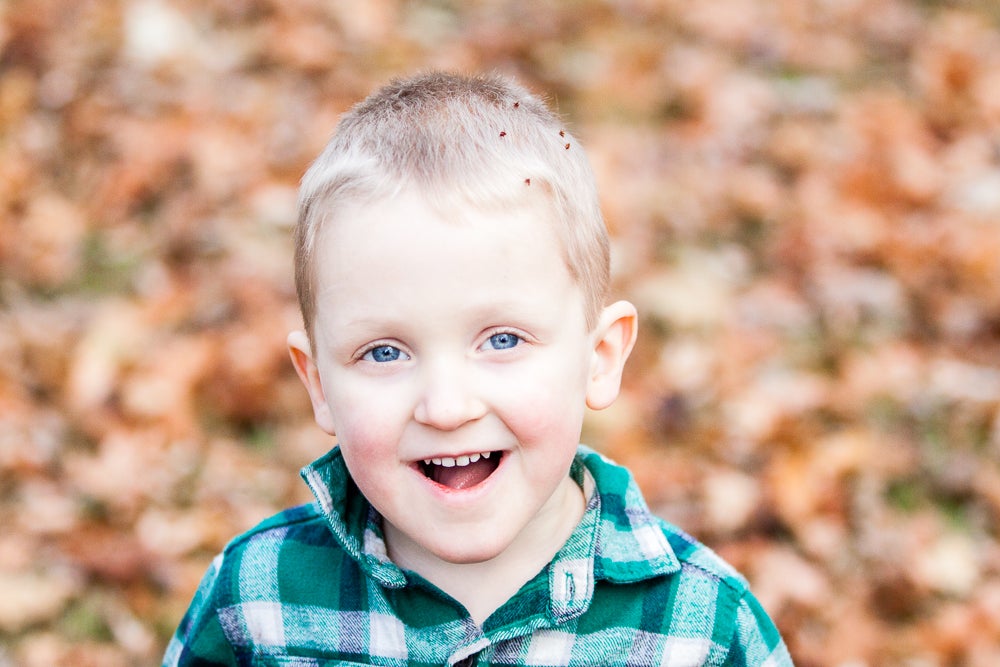 This was shot with a 70-200 F/2.8 on the 7D. The screen is small at that distance, so it's good to use a photo that takes up most of the screen.
Should I buy it?
If you photograph kids or animals a lot and you don't feel like DIY hacking one together on your own, it will likely come in handy. But, the 7-inch version costs $75 and the 11-inch version is $80. Not exactly cheap. That said, it will likely last you forever and it comes with TT's lifetime guarantee.
I plan on using the Look Lock on the regular with my family clients who have toddlers, I just likely won't break it out until we're getting to the end of the session. That way, it's a new thing to keep the child interested and if he or she throws a tantrum when we put it away, it won't ruin the shoot.
Hey, maybe I can even use it during my wedding shoots by putting the football game on it and keeping the groom's eyes locked on the camera.