Lens Test: Nikon 28mm f/1.8G AF-S
A wide, high-speed, and budget-friendly prime lens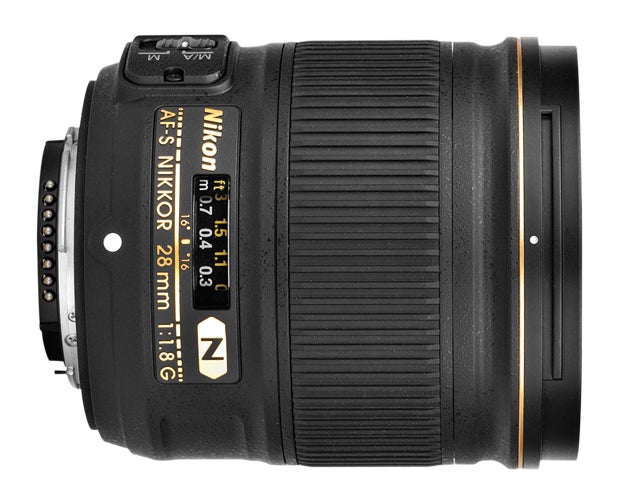 We may earn revenue from the products available on this page and participate in affiliate programs. Learn more ›
The latest of Nikon's high-speed, full-frame, wide-angle primes, the 28mm f/1.8G ($699, street) falls between the budget-busting 24mm ($1,999) and 35mm ($1,649) f/1.4Gs and the affordable 28mm f/2.8D ($275). The new 28mm is fast, with up-to-date features such as Nikon's quiet SWM focusing motor and Nano Crystal Coating for improved flare and ghost control. The relatively moderate price and high utility of this new lens make it an attractive choice for users who can't spring for Nikon's legendary f/1.4s.
Given its 42mm equivalent focal length with APS-C sensors, it offers a normal-range field of view on Nikon's DX bodies. It's light and compact—almost four ounces lighter than Sigma's comparable 28mm f/1.8 EX DG full-framer, which takes 77mm filters, compared with the Nikon's 67mm. On the Nikon D800 body, the lens was compact enough to throw no shadow when used with that camera's built-in flash.
Other features to like: its weather-resisting rubber o-ring around the lens mount and its large, smooth-turning manual-focus ring, whose turning radius is a comfortable 100 degrees—long, but not too long. We were surprised, however, by the slightly scratchy and underdamped feel to that turn. As you might expect, the build isn't in the same league with Nikon's wide-angle f/1.4 primes.
In our test lab, the lens scored Excellent-range SQF numbers—roughly the same as the Sigma, the most comparable lens we've tested recently. But in tests with DxO Analyzer 4.1, the Nikon's Slight barrel distortion (0.22%) showed better control than the Sigma's 0.43% barreling. Conversely, the Nikon's 1:3.96 maximum subject magnification at 9.37 inches seemed merely adequate compared to the $450 Sigma's stronger 1:2.9.
Some Nikonians may be tempted by the 28mm f/2.8D and its $275 street price. That rather long-in-the-tooth lens actually boasted stronger SQF scores: six of its seven apertures fell in the red, A+ range at our 11×14-inch benchmark. Think twice, though. Its 0.83% barrel distortion, and lack of specialized coatings or SWM autofocus are real issues. Justifying its price, Nikon's new 28mm delivers higher speed and more up-to-date optics. Like all 28mm's, its focal length is well-suited to travel, groups, and environmental portraits, showing great swaths of background, with minimal linear distortion. We're certain that many shooters will rightfully succumb to its numerous charms.
SPECIFICATIONS:
28mm (28.53mm tested), f/1.8 (1.87 tested), 11 elements in 9 groups. Focus ring turns 100 degrees.
Diagonal view angle: 75 degrees.
Weight: 0.79 lbs.
Filter size: 67mm.
Mounts: Nikon AF.
Included: Lenshood, case.
Street price: $699.
Website: nikonusa.com
TEST RESULTS
Distortion: 0.22% (Slight) barrel.
Light falloff: Gone by f/3.5.
Close-focusing distance: 9.37 inches.
Max. magnification ratio: 1:3.96.