Sekonic Reveals Litemaster Pro L-478DR and L-478D Touchscreen Light Meters
The first photo and cine touchscreen lightmeters are being unveiled at Photokina this year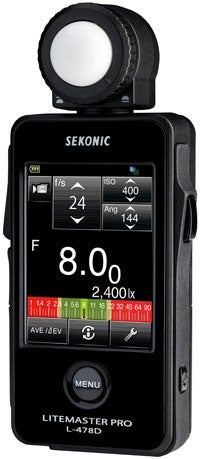 We may earn revenue from the products available on this page and participate in affiliate programs. Learn more ›
Pro-level light meter manufacturer Sekonic has just announced a pair of new devices that bring a touchscreen interface to the world of light meters. The LITEMASTER PRO L-478DR and L-478D duo are aimed at both photographers and filmmakers with the need for some serious technical skills.
Sekonic is billing the pair "the world's first and only dedicated color touchscreen light meters," which makes for an interface more intuitive than scrolling through pages of settings on a small LCD, and offers unparalleled customization.
The light meters come in two forms, the L-478DR and the L-478D. The big difference is that the DR version comes with built-in Pocketwizard support, meaning that you can wirelessly adjust and control all the flashes and strobes from within your shooting setup.
B&H have a full, in-depth hand's on with the light meters, and really go into depth with the controls, settings, and layout of the devices, and just how many features they have.
What's especially useful is that the Litemaster Pro L-478Ds can be customized to your individual camera using Sekonic Exposure Profile Target II or X-Rite ColorChecker. You can determine the dynamic range of your camera, then take a series of readings in various parts of the frame and find out which areas can be captured in detail. Neurotically wonderful.
We haven't heard the price of these two light meters, but they're expected to be available at the end of the month.