Lens Test: Sigma 50-150mm f/2.8 EX APO DC OS HSM
The first stablized APS-C-format f/2.8 in its range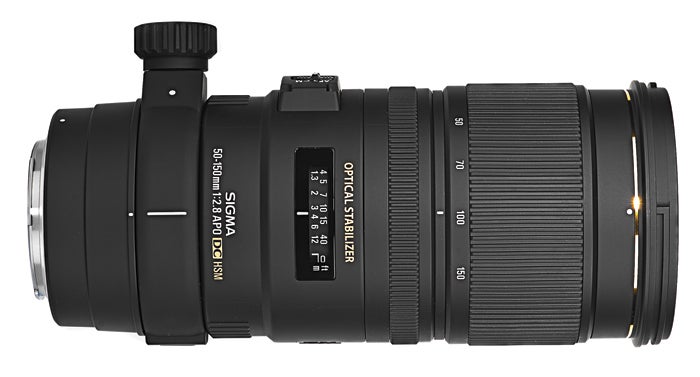 We may earn revenue from the products available on this page and participate in affiliate programs. Learn more ›
For APS-C shooters who covet the fast, image-stabilized 70–210mm zooms for full-framers, Sigma provides the sole choice. This 50–150mm f/2.8 OS lens ($1,099, street) replaces a similar but nonstabilized lens in Sigma's catalog. Its EX designation points to a pro-quality optic, and the specs support that: Internally zooming and focusing, with six SLD glass elements for sharpness, it focuses quietly and includes a removable tripod collar, which the older 50–150mm lacked.
Scaling up to an equivalent 80–240 (Canon) or 75–225mm (Nikon), the lens is heavy and bulky. Despite covering a smaller image circle, it is the same size and weight as Sigma's full-frame 70–200mm f/2.8 OS zoom ($1,299, street). Surprising for a lens of this caliber, it has neither an O-ring on the mount to seal out moisture and dust nor a depth-of-field scale (the 70–200mm has two).
Both the focus and zoom rings turn smoothly, grip easily, and are quite large. We also like the sure and silent AF, with its adequate speed and manual-focus override capability.
Our optical bench tests found SQF numbers for sharpness and contrast in the Excellent range for the three tested focal lengths. At the long end, the performance was significantly better than the 70–200mm, which rated only Very Good at 200mm. But the new lens underperformed the one it replaces: Almost all of the earlier (now discontinued) 50–150mm f/2.8's SQF scores (at 11×14, our benchmark) landed in the red zone on our chart—in the mid-to-high 90th percentile. This may be the price of stabilization; the previous version was also half the weight, half the price, and 2 inches shorter.
Still, this new lens did a much better job at controlling distortion and vignetting than its predecessor.
Indeed, most of this lens's blemishes are more peccadillos than serious problems. With that bright maximum aperture, on-board stabilization, and popular focal length range, this zoom will exert an almost irresistible allure on upwardly mobile APS-C shooters. Paired with Sigma's 17–50mm APS-C f/2.8, and maybe a teleconverter, it can be the rock on which a long-lived pro or semi-pro career is built.
SPECIFICATIONS
50–150mm (51.33–145.72mm tested), f/2.8 (f/2.89 tested), 21 elements in 15 groups. Focus ring turns 130 degrees. Zoom ring turns 80 degrees. Focal length marked at 50-, 70-, 17-, 100-, and 150mm.
Diagonal view angle: 31–11 degrees.
Weight: 3 lbs.
Filter size: 77.
Mounts: Canon AF, Nikon AF, Sigma AF.
Included: Lenshood, case, tripod collar.
Street price: $1,099.
Website: sigmaphoto.com
TEST RESULTS
Distortion: At 50mm, 0.17% (Slight) barrel. At 100mm, 0.02% (Imperceptible) pincushion. At 150mm, 0.06% (Imperceptible) pincushion.
Light falloff: At 50mm, gone by f/3.5. At 100mm, none. At 150mm, gone by f/3.5.
Close-focusing distance: 27.33 inches.
Maximum magnification ratio: At 50mm, 1:10. At 100mm, 1:6.38. At 150mm, 1:5.31.
Stabilization: 2.5 stops.