FYI: This Is Over $40,000 Worth Of Umbrella Reflectors In This Photo
Photokina 2012 brings total gear overload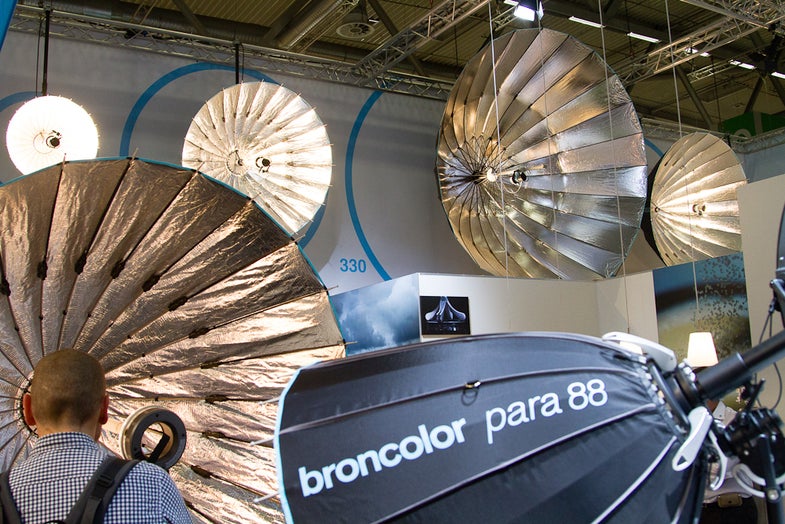 We may earn revenue from the products available on this page and participate in affiliate programs. Learn more ›
Walking around the Photokina trade show can have a numbing effect on the mind. It's amazing to be surrounded by so much cool photography gear, but it can also make you lose perspecitve. So, I'm taking a moment to appreciate the fact that the Broncolor parabolic reflectors in this photo alone would set you back more than $40,000. And that's before you add a single light.
Broncolor is using an array of their giant parabolic reflectors to attract people into their booth. That big boy up there in the middle is a 330 FB Reflector Umbrella and it will set you back $11,300 all by itself. It measures 10.8-feet across with 24 supports and even the diffuser costs about $1,200.
The other players are a couple of 220 FB Parabolic Umbrellas that check in at $7,300 a piece, a 170FB, which costs $5,700, and the Para 88 FB in the foreground which gets up over $4,000 once you add a focusing rod.
It's the kind of gear that many pros will rent rather than buy, but they really are amazing if you get a chance to work with them. They wrap your subject in bright light, giving them a sort of glow that's amazing for high fashion work. Because of their very specific shape, you can also use them to throw light incredibly far, assuming that you have a powerful enough source.