McAfee Social Protection App Promises To Protect Facebook Photos From Unwanted Viewers, Downloaders
Limiting the spread of your images over Facebook is nearly impossible, be it for personal or business reasons, but could a new tool from McAfee do just that?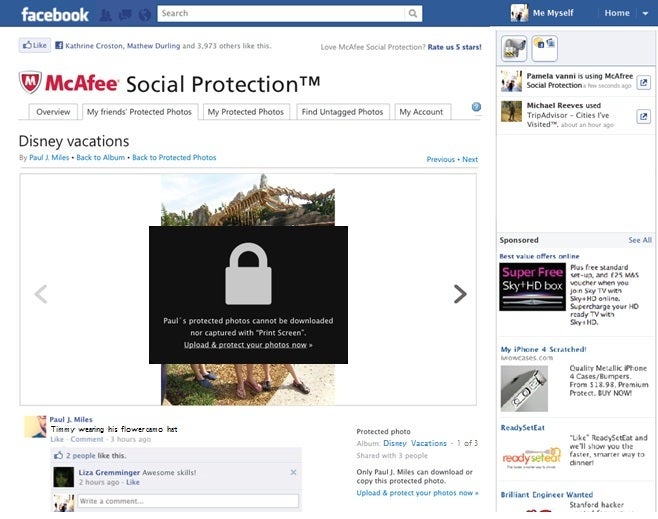 It's well-known by now that putting your photos up on Facebook is a bit of a gamble. Privacy and access options have improved of late, but it's still not quite as granular as, say, Google+. It's also definitley not as secure as photography-specific sites like 500PX, which does a solid job protecting images. But now, security firm McAfee has created a Facebook app to try and prevent photos from getting ripped off, or even from being seen by certain individuals.
Dubbed McAfee Social Protection, it'll offer two major changes to the way that photos are shown on Facebook. For one, the app will let you specify down to the individual level who gets to see your images — everyone else will just see a blurred version. They also don't get the option to reshare the photo, like you can on Facebook. McAfee Social Protection will also make it harder for people to save your images. Downloading will be fully disabled, and they claim to be able to block screen shots, leaving only blank areas where the photo should be. The photos will be stored on McAfee's servers rather than Facebook's.
Of course, if someone really wants to grab your images, they will. This just adds an extra layer of security to prevent it happening. The other downside is that your friends will have to install the app to see your images, contributing to the seemingly eternal scourge of app invite spam that infests the social network.
The app is set to launch later this week, but if it takes off or not will depend on if the extra security is worth the hoops it wants you to jump through. It's likely Facebook itself will be watching reactions closely in case they choose to do something similar down the line.