Canon Unveils Two New Cinema Cameras And Four More Lenses
With two zoom and two prime lenses, canon is substantially beefing up its cine offerings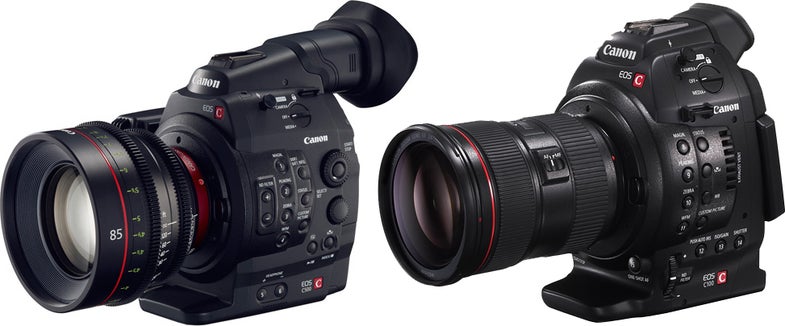 We may earn revenue from the products available on this page and participate in affiliate programs. Learn more ›
Canon has just unveiled a six new products for cinematographers, two new bodies, and four lenses: two each prime and zoom.
The big new introduction is the flagship EOS C500 4K Digital Cinema Camera, capable of recording 4k video (4096 x 2160) in RAW, at 1-60 frames per second. The quality can also be dialed down to 10-bit YCrCb 4:2:2 to record slow motion 120fps footage. It will be available in October for a list price of $30,000. On the less expensive side is the EOS C100 Digital Video Camera, which will go for just $7,999 come November. Aimed squarely at budget-friendly endeavors like independent movie making and wedding videography, it captures video at 1920×1080, with an ISO that can go as high as 20,000. Video is recorded in AVCHD using MPEG-4 AVC/H.264 compression, and the body can take modular accessories like detacheable handles.
Canon also announced two prime lenses and two zoom. The pair of primes clock in at 14mm T3.1 and 135mm T2.2, and are expected to land in the first half of next year for prices unknown. The lenses are designed for use with large-format single-sensor 4K and 2K digital cinematography cameras, but will also be compatible with Super 35mm sensors, and Canon DSLRs.
The two zoom lenses, on the other hand, come with mount options for either PL- or EF-mounts. In January of next year you'll be able to purchase either the Canon CN-E15.5-47mm T2.8 L S/SP wide-angle cinema zoom lens or the CN-E30-105mm T2.8 L S/SP telephoto cinema zoom lens for $24,500 a head. Each lens is light weight, with low-refraction, low-dispersion UD (ultra-low dispersion) glass, and 11 aperture blades.