Samyang Announces 8mm f/2.8 Fisheye for Sony NEX and Samsung NX Cameras
This manual focus lens has the is a 12mm equivalent, with a maximum aperture of f/2.8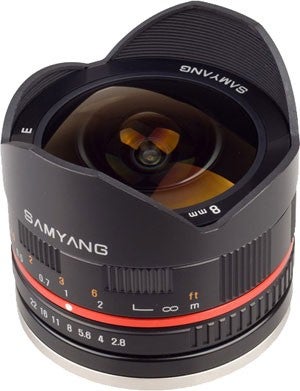 The newest glassware from Korean lens house Samyang is a fisheye designed for the Sony NEX and Samsung NX cameras. The Samyang 8mm f/2.8 UMC Fisheye Lens is the equivalent of 12mm in 35mm parlance, that gives a whopping 180° field of vision on APS-C sensors.
The lens will have a maximum aperture of f/2.8, a minimum of f/22, and a minimum focus distance of 0.3 meters. As with all of Samyang's lenses, it's manual focus, and will pack 10 elements in 8 optical groups in such a manner that the lens does not change in size while focusing. That f/2.8 puts it a solid notch above earlier, similar lenses from the company which topped out at f/3.5.
There doesn't appear to be full USA details for the lens yet, but it's expected to land in Europe in July for £279.99 / Euros 349.99. When it does come to America, look for it under the Rokinon label — in the meantime we'll hope it arrives in other mounts as well.
[via PhotographyBlog]