New Gear: Nikon DX 18-300mm f/3.5-5.6G ED VR and Nikon 24-85mm f/3.5-4.5G ED VR Zoom Lenses
Nikon adds a DX all-in-one zoom and a normal zoom full-framer to its line-up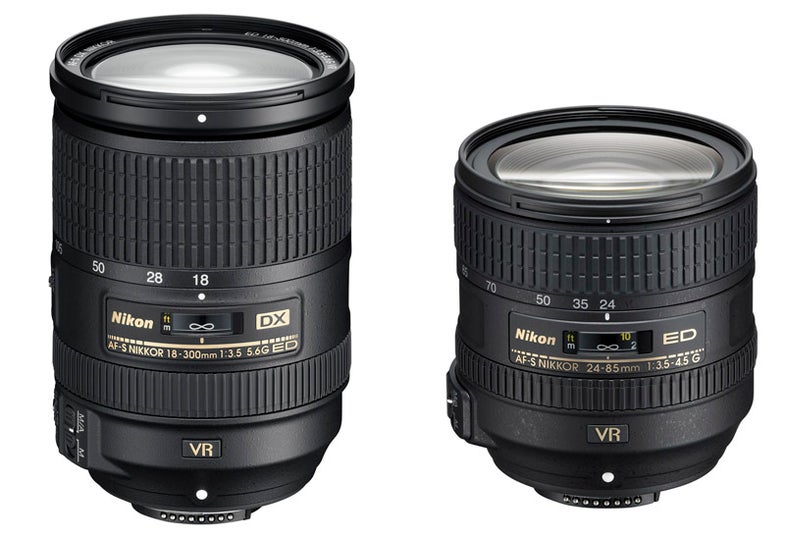 We may earn revenue from the products available on this page and participate in affiliate programs. Learn more ›
Got shaky hands? Nikon has a couple new lenses which are the best for shaky hands for you tonight in the form of the AF-S DX NIKKOR 18-300mm f/3.5-5.6G ED VR all-in-one zoom for APS-C bodies and the AF-S NIKKOR 24-85mm f/3.5-4.5G ED VR, which can handle full-frame DSLRs.
The 18-300 DX lens is only slightly larger than Nikon's already-popular 18-200 f/3.5-5.6, while adding an extra 100mm of reach (technically making it a whopping 16.7x zoom). Nikon promises that the VR offers up to 4 extra stops of handholdability, which we'll check on in our lab test.
Focusing is done internally, but the lens does extend to roughly twice its normal size when zoomed all the way in to 300mm. That's relatively common for super zooms like this. It features a 9-blade aperture and is made up of 18 elements, arranged into 14 groups, with 3 ED elements and 3 aspherical elements to help cut chromatic aberration.
As with any all-in-one zoom, we always worry about zoom-creep, thankfully Nikon included a dedicated zoom lock to keep the barrel from sliding around during transportation. Given it's impressive zoom range, and relatively low maximum aperture at 300mm, we can definitely see this being a popular buy with DX-body owners. It will be available June 28 in the US for $995.95.
The full-frame-compatible Nikon 24-85mm will cost just $599.95, making an interesting alternative to the 24-70mm f/2.8, which is much more expensive and lacks VR.
Like the 18-300, Nikon also alleges that with Vibration Reduction enabled, the 24-85 will offer up to 4 extra stops of hand-held goodness. It features a 7-blade aperture, with 16 elements arranged into 11 groups, of which three are ED elements, while one is aspeherical.
We're looking forward to getting both lenses in our lab when they're available. We're also looking forward to more advanced zooms with built-in VR. As long as they can keep up the optical performance, of course.