Nikon Issues Battery Recall On EN-EL15 For D800, D800E, D7000, V1
A small number of rechargeable Nikon batteries have experienced problems, prompting the company to issue a recall notice.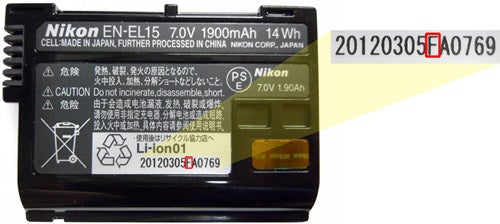 We may earn revenue from the products available on this page and participate in affiliate programs. Learn more ›
Users of the D800, D800E, D7000, V1 take note — Nikon has issued a limited recall of some of your batteries due to electrical issues. This is the EN-EL15 battery, and Nikon has reported seven cases worldwide of a short circuit causing the battery to overheat and deform. No injuries have been reported, but warped batteries can be dangerous.
Here's how to tell if your battery is being recalled:
If your battery is a recalled on, immediately stop using it, and contact Nikon at the link above. They'll send you a new one, and take the old one off your hands.