Lens Test: Sigma 105mm f/2.8 EX DG OS HSM Macro
Sigma adds stabilization to its macro lineup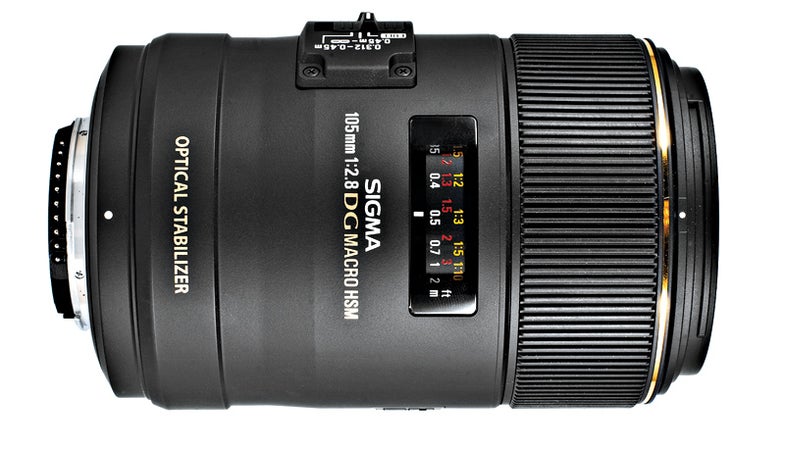 We may earn revenue from the products available on this page and participate in affiliate programs. Learn more ›
A ruggedly constructed, large-aperture, full-frame, image-stabilized, 1:1 close-up lens, this medium telephoto prime ($970, street) converts up to about 150mm on Sigma's SD1, as well as on most DSLR cameras with APS-C sensors.
Its attractions include a nonrotating barrel suitable for lens-mounted macro ringlights; super-low dispersion and high- refractive index elements that correct for color fringing; and a hypersonic focu-sing motor with manual-focus override. It accepts Sigma APO teleconverters.
On our test camera, the Nikon D3s, the lens seems large, but it's actually average in length for the class, if a few ounces heavier than the comparable full-frame Canon EF 100mm f/2.8L IS and Nikon 105mm f/2.8G VR Micro- Nikkor. Its broad focusing ring offers a generous 160-degree turning radius for relatively fine manual focus. It does not, however, deliver the precise focus possible with the Nikon's 230-degree turn.
Sigma has marked this 105mm well, although the dark-red subject distance scale for feet is difficult to read, even in good light.
On our optical test bench, the lens delivered Excellent SQF data, and our field tests concurred with faultless sharpness and contrast. Its numbers came in slightly above the Canon's, but below those of the comparable Nikon. Ironically, the sharpest of all our recently tested full-frame macros was by far the least expensive: the $470 Tokina 100mm f/2.8 AT-X Pro. (It lacks stabilization.)
In DxO Analyzer 4.0 tests of distortion control, the Sigma shined with Imperceptible barrelling (0.03%) in both macro and non-macro ranges. Light falloff was gone by f/3.5—slightly better than Nikon's f/4, but below the Canon's falloff- free performance in the macro range.
In DxO blur factor tests of the OS system, four users gained between 1 and 2 stops of extra handholdability at 15 feet—disappointing when juxtaposed with Nikon's 3 to 4 stops and Canon's 2.5 to 3.5. Sigma's 2 stops in the macro range (1:3), however, matched the Canon and beat the Nikon, which turned in only 1 to 2 stops of extra shake control.
In some respects, the most unusual aspect of Sigma's 105mm macro is its cost. Following a strategy it has pursued for several years now, Sigma continues to price many of its newer lenses at or just below camera makers' equivalents—unusual for a third-party player, which usually hold prices down. This lens, for example, has the dubious distinction of being one of the few Sigmas that's more expensive than the competition. About equal in price to the Canon ($996, street), it costs $70 more than the Nikon ($900, street). Even more surprising: You have to shell out $480 more for the Sigma than for the sharper Tokina f/2.8 1:1 macro. Will this strategy work for Sigma? We'll see. Either way, Sigma SD1 owners just got themselves one heck of a fine portrait and close-up lens.
SPECIFICATIONS
105mm (101.61mm tested), f/2.8 (f/3.01 tested), 16 elements in 11 groups. Focus ring turns 160 degrees.
Diagonal view angle: 23 degrees.
Weight: 1.72 lbs.
Filter size: 62mm.
Mounts: Canon AF, Nikon AF, Sigma AF, Sony/Minolta AF.
Included: Two lenshoods, case.
Street price: $970.
FOR INFO: www.sigmaphoto.com
TEST RESULTS
Distortion: 0.03% (Imperceptible) barrel. Macro distortion: 0.03 (Imperceptible) barrel.
Light falloff: Gone by f/3.5. Macro light falloff: Gone by f/4.5.
Close-focusing distance: 12.12 inches.
Maximum magnification ratio: 1:0.90.
Image stabilization: 1–2 stops. Macro: 2 stops.