New Gear: Zeiss Distagon T* 15mm f/2.8 ZE Prime Lens
The new Zeiss wide-angle lens is big and beautiful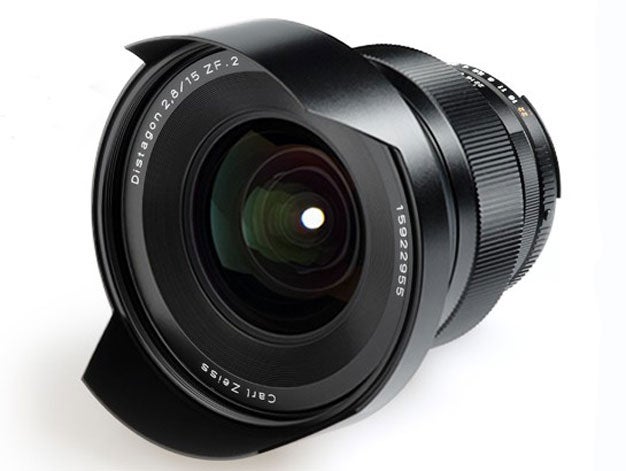 We may earn revenue from the products available on this page and participate in affiliate programs. Learn more ›
The first thing you'll notice when you hold the new Zeiss 15mm F/2.8 lens in your hand is how big and relatively heavy it is. In most circumstances, that would sound like a criticism, but as with Zeiss lenses in the past, it's actually fairly desirable. The all-metal barrel feels incredibly sturdy, and that includes the integrated lens hood, which sticks out well beyond where the front of the lens would otherwise be to protect the protruding front element.
The lens comes in two mounts, Canon EF (ZE) and Nikon F (ZF.2) and has a minimum focusing distance of about 10-inches. Inside are 15 elements arranged into 12 groups. Two of those elements are aspherical, and Zeiss has used glass with abnormal partial dispersion in order to cut down on ugly lens effects like chromatic aberration. Like with other Zeiss glass, the edges of the elements have a layer of light-absorbing paint and an anti-reflective coating is applied to minimize ghosting.
At 15mm, this lens offers a 110-degree diagonal field of view, but they have made efforts to reduce distortion common with ultra-wide lenses. We'll know just how effective their efforts were once the lens hits our test lab.
As you'd probably expect, the 15mm offers a high-visibility distance scale for zone or video focusing and the focus ring provides tremendously smooth movement and secure stops. It's a manual focus lens, but it will work with the AF points in your DSLR, which helps ensure you've nailed the focus.
The lens will start shipping in May, at which point it will cost roughly $3,000.