Lens Test: Zeiss 25mm f/2 Distagon T* ZE
The Zeiss is right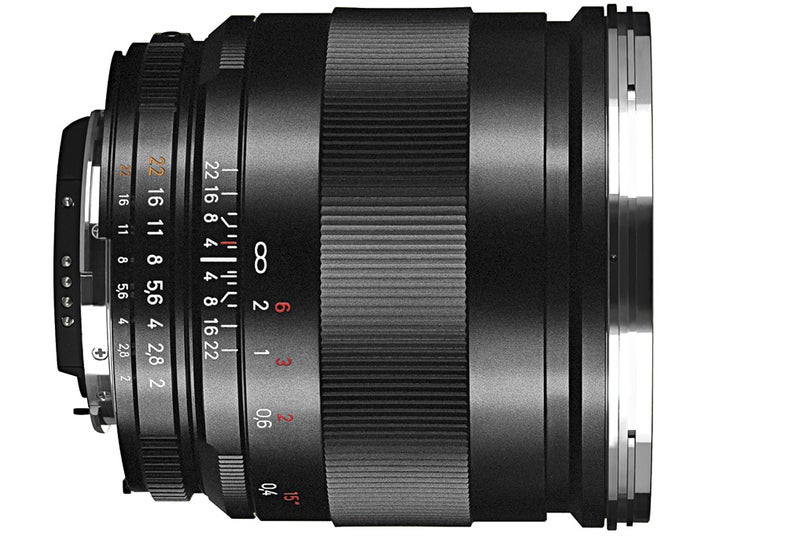 We may earn revenue from the products available on this page and participate in affiliate programs. Learn more ›
Fast, manual-focus primes for DSLRs are popping up like mushrooms (or, in this case, truffles). The more favorably priced (Vivitar, Rokinon, etc.) may prove to be passing fads, but the made-in-Japan tanks from Zeiss should be around for the long haul. These lenses seem simultaneously cutting-edge and old-fashioned, and the full-frame 25mm f/2 Distagon T* ($1,700, street) is the latest to ride our optical bench.
The lens scales up to a 35mm or 40mm on APS-C bodies, and is available in Nikon (ZF.2) and the tested Canon (ZE) mounts. Though it focuses mechanically, it offers basic electronic coupling, including focus confirmation, meter readouts, and shutter speed and aperture displays. Recorded EXIF data includes maximum aperture, working aperture, and lens focal length.
This all-metal f/2 weighs almost as much as most 24mm f/1.4s. Focus action is luxuriously well damped, inaudible, and long-turning; the barrel does not rotate.
Our optical bench tests found Excellent-range sharpness and contrast, with the best numbers occurring in the mid-aperture range. At our benchmark magnification of 11×14 inches, its SQF results never rose into the A+ heights, as the Canon 24mm and Zeiss 35mm f/1.4s frequently did. Similarly, DxO Analyzer 4.0 tests of the lens's ability to suppress distortion found 0.25% barreling, slightly more than those Canon and Zeiss primes (0.16% and 0.22%, respectively) and the Nikon 24mm f/1.4 (0.23%). However, the differences would be difficult to distinguish in photographs.
Vignetting, though, is another matter. Light falloff disappeared by f/5, noticeably underperforming both the Nikon 24mm (f/2) and Zeiss 35mm (f/2.5). Its subject magnificiation (1:5.5) also compared unfavorably with the Nikon's 1:4.9 and the Zeiss 35mm's 1:4.8.
Unlike most wide-angle lenses these days, this 25mm f/2 Zeiss can offer an unusual photographic experience—one in which creamy, defocused backgrounds for wide-angle shots happen in the camera (not in postproduction), in which the act of extremely smooth manual focus as experienced both by the eyes (in the viewfinder) and the fingers (as you focus) invests users in the process of creative capture. And the sheer excellence of build and design of this lens may well inspire and sustain your passion for photography.
SPECIFICATIONS
25mm (24.99mm tested), f/2.0 (f/2.03 tested), 11 elements in 10 groups. Focus ring turns 140 degrees.
Diagonal view angle: 81 degrees.
Weight: 1.39 lbs.
Filter size: 67mm.
Mounts: Canon AF, Nikon AF.
Included: Lenshood.
Street price: $1,700.
For Info: www.zeiss.com
TEST RESULTS
Distortion: 0.25% (Slight) barrel.
Light falloff: Gone by f/5.
Close-focusing distance: 9.87 inches.
Maximum magnification ratio: 1:5.52.