Apple Bringing iPhoto To The iPad and iPhone
Available right now, iPhoto for iPad is half the price of Adobe Photoshop Touch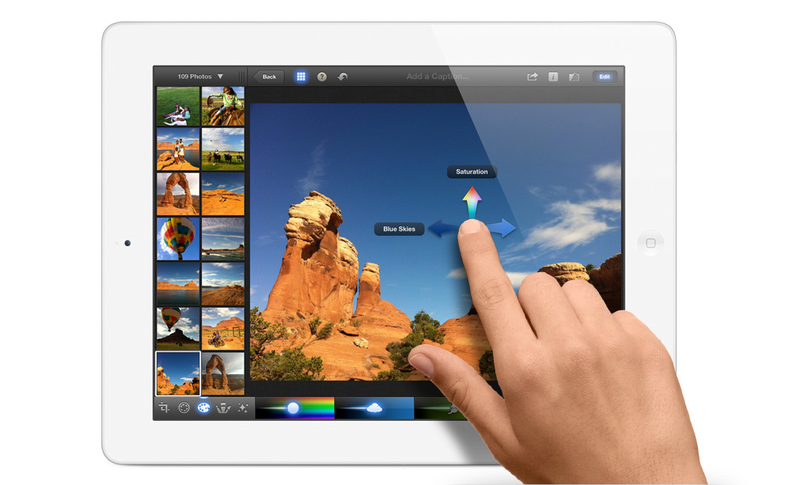 The mobile photo-editing race just got a bit tighter: In addition to unveiling its shiny new iPad HD, Apple announced that iPhoto is finally coming to the iPadand iPhone, giving Adobe Photoshop Touch a run for its money.
The new app offers many of features from the desktop version of iPhoto and adds some new ones, like smart browsing, multi-touch editing, various "professional" effects, and brushes. Of course, there's also a selection of filters that can be applied to your images, just in case you haven't quite had enough of those yet.
One of the coolest new features included in the app is Photo Beaming, which lets you take photos with your iPhone and then send the full resolution version over to an iPad for editing without having to mess with cables or a computer. It's a natural step for Apple and we're glad to see that the process is getting increasingly seamless.
The multi–touch-editing interface leans heavily on gestures and lets you adjust values like white balance, exposure, contrast, brightness, saturation by dragging a finger across the screen. Adjustments can be applied locally with a brush tool, and you can also crop and straighten on the fly.
The "Photo Journals" feature is a new way to share groups of photos with specific friends and family members. You can include notes, calendars and maps along with your galleries for a more personal sharing experience.
Because Apple has baked AirPlay into iPhoto for iOS, it will be able to wirelessly send photo galleries to compatible devices, including the new Apple TV, for consumption on your big screen. Again, less cables is always better.
iPhoto for iPad can handle images up to 19-megapixels, which means cameras like the Canon 5D Mark II, Sony NEX 7, Sony A77, and Nikon D800 won't play nice. There's also no mention of RAW processing.
Available right now for half the price of Photoshop Touch, pick up iPhoto for iPad for $4.99 in the app store.