Camera Test: Samsung NX200 ILC
Samsung starts its ILC journey all over again with the NX200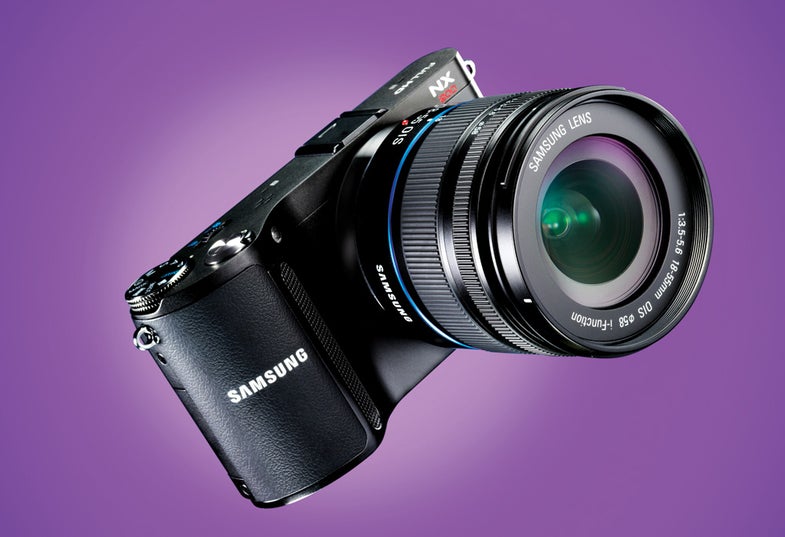 We may earn revenue from the products available on this page and participate in affiliate programs. Learn more ›
After a bit of a rough start in the interchangeable-lens compact game, Samsung went back to the drawing board, starting fresh with the NX200. A 20.3MP model, with a body that rivals the competition in terms of size and snazzy looks, the NX200 ($750, street, with 18–55mm f/3.5–5.6 OIS II lens) looks very nice—on paper.
In reality? Once we got this camera into the Popular Photography Test Lab, we found that Samsung's gambit was worth it: This model represents a serious improvement over the company's past models, the NX10 and NX100. During field testing, however, we ran into some of the same quirks that irked us about its predecessors. Despite these, we're impressed with how Samsung is building out this system, especially with its growing list of lenses.
In the Test Lab
Since the NX200's APS-C-sized sensor has almost 6 million more pixels than the NX10, it comes as no surprise that the new camera showed more resolving power in our lab test. It turned in 2600 lines per picture height at the camera's lowest sensitivity of ISO 100. Of course, packing more than 20 million pixels into an APS-C sensor can result in enough noise to destroy resolving power, either by introducing false image information that obscures detail or through the noise reduction used to minimize it.
The customized version of the Silkypix RAW conversion software that comes with the NX200 doesn't vary the default noise reduction applied as the ISO increases, so noise became quite high as we bumped up the sensitivity in our tests. And if you manually turn up noise reduction in the software, you're likely to lose a significant amount of resolution (which falls off quite a bit, even with the minimal default noise reduction).
In our tests, stepping up to ISO 1600 saw a loss of nearly 200 lines of resolution at the software's default setting. At ISO 6400, resolution slumped to 2080 lines. And at the camera's highest sensitivity of ISO 12,800, resolution fell further still, to 2000 lines—although this is enough for a Very High rating on our descriptive scale.
As we like to do when the default noise reduction doesn't adjust for ISO, we looked at both RAW and JPEG noise results for noise. The RAW numbers (based on files converted to TIFFs), seen in the chart on this page, reach an Unacceptable rating by ISO 800. While the JPEG images proved noisier at ISO 100 (2.1 versus 1.6), they remained in acceptable territory all the way up to ISO 6400.
Again, this comes at the expense of resolution, though the NX200 provides enough res to sacrifice some to the noise gods. Picky shooters will likely complain of softness at higher ISOs, while casual snapshooters who plan only to print at 4×6 inches or share images online will be fine with the NX200's JPEGs.
Color accuracy earned an Excellent rating, with an average Delta E of 7.3. Taken all together, these test results earn the NX200 an image quality rating of Excellent at ISO 100. Given the noise, though, image quality falls to Extremely High at ISO 200, and drops yet again to Very High at ISO 400.
In the Field
The NX200's body improves greatly on Samsung's last two designs. With a decent array of buttons and a handy control panel interface, we had an easy time changing the settings on the NX200—unless the camera was writing a RAW file to the memory card. Strangely, you can't change any settings while the camera is writing the nearly 50MB RAW files it generates. This can be particularly frustrating if you're trying to manually bracket exposures.
But RAW processing doesn't hamper burst shooting—you can get up to 8 frames at 7 frames per second—so you can set the camera to autobracket to get a quick exposure sequence.
Another option is to shoot JPEGs, which write quickly to the card and don't slow down your shooting. This obviously limits what you can do with the NX200, which seems better suited to a more casual photographer.
Although we don't put the contrast-detection autofocus systems in ILCs through the same lab tests we run on the phase-detection systems in DSLRs, extensive field testing gives us a good sense of AF capabilities. The NX200's autofocus isn't quite as fast as what we've seen lately from Panasonic and Olympus ILCs. Sony's NEX-7 also focuses a little faster than this Samsung. When using continuous AF in burst mode, the NX200's AF couldn't keep up, so the 7 fps burst rate slowed to less than 2 fps when we tried to capture faster-moving subjects with the kit lens.
Video looks good, with pleasant color saturation and few artifacts. Again, depending on your subject, you may encounter some AF issues, but in most situations the camera did a fine job of focusing.
Bottom Line
The NX200 is definitely a step forward for Samsung and, while we had some problems in our field testing, we also expect that JPEG shooters will generally be pleased with this camera.
The tough part is reconciling the NX200's price with its performance. It's expensive for casual shooters, while more advanced types will likely be turned off by the sluggish RAW capture.
And for a little more money, you can opt for a speedier camera such as Panasonic's Lumix GX1 (tested on page 80). The NX200 does produce more resolution than the Panasonic, but the GX1 holds more of it as ISO increases. Both of these cameras could use more sophisticated RAW conversion software than their manufacturers provide, but many users opt for third-party software for this anyway.
When it comes to optics, we're pleased that Samsung has nine lenses in its ILC lineup already—and seems poised to add to that significantly over the course of the next year. We used five different lenses during our field testing, including the impressive 60mm f/2.8 macro with Optical Image Stabilization (OIS).
Like some of Sony's E-mount lenses, Samsung's are larger than the equivalents for Micro Four Thirds. No ILC system has fast, constant-aperture zooms yet, but when they do come along, we expect them to be clunky enough to make some photographers wonder if they should just go with a DSLR.
One thing we missed while using the NX200? A viewfinder. Samsung doesn't offer one, and given that the NX200's hot-shoe lacks any extra contacts, we doubt one will be made. We hope that the next NX model will support an EVF of some kind.
Samsung still has plenty of room for improvement in its ILC line, but the NX200 is a step in the right direction. And if you don't plan to shoot RAW, it deserves your consideration
Specifications:
Imaging: 20.3MP effective, APS-C sized, CMOS sensor captures images at 5472×3648 pixels with 12 bits/color in RAW mode.
Storage: SD, SDHC, SDXC. Stores JPEG, SRW RAW, and RAW + JPEG.
Video: Up to 1920x1080p30 in MP4 H.264 format; built-in stereo mic, no mic input; contrast-detection AF with continuous AF.
Burst Rate: Full-sized JPEGs (Fine mode): 7 fps up to 11 shots. RAW (12-bit): 7 fps up to 8 shots.
AF System: TTL contrast detection with 15 focus points. Single-shot and continuous AF with face detection.
Shutter Speeds: 1/4000 to 30 sec, plus B (1/3-EV increments). Shutter life not rated.
Metering: TTL metering using 221-segment multi (evaluative), centerweighted, and spotmetering; 0–17 EV (at ISO 100, f/2.8).
ISO Range: ISO 100–12,800 (in 1/3- or 1-EV increments).
Flash: No built-in pop-up; included SEF8A hot-shoe flash, GN 27 (ISO 100, feet). Flash sync to 1/180 sec.
Monitor: Fixed, 3-in. AMOLED with 614,000-dot resolution.
Output: Hi-Speed USB 2.0 and mini HDMI video.
Battery: Rechargeable BP1030 Li-ion, CIPA rating, 320 shots or approximately 110 minutes of video.
Size/Weight: 4.6×2.5×1.4 in., 0.83 lb with a card and battery.
Street Price: $750 with 18–55mm f/3.5–5.6 OIS II zoom lens.
Info: www.samsung.com