New Gear: the Super Triplet Perar 28mm f/4 Is The Smallest M-Mount Lens Ever
Weighing just 1.58 oz, this lens is just about the tiniest thing we've ever seen.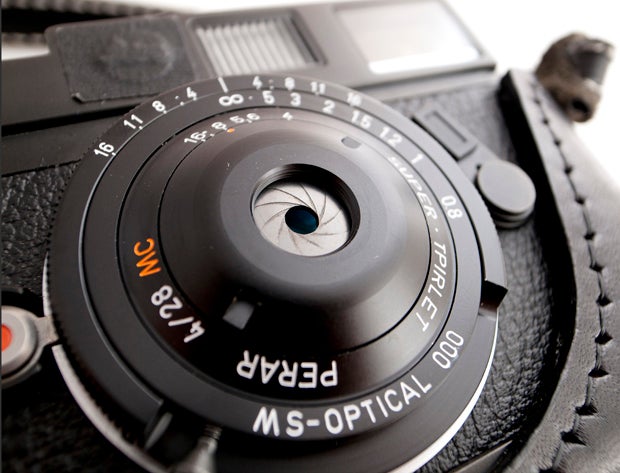 We may earn revenue from the products available on this page and participate in affiliate programs. Learn more ›
Sadoyasu Miyazaki is a one-man Japanese lens maker, known for lens conversions and the occasional original piece through his company MS Optical. Miyazaki's latest endeavor is the smallest lens ever crafted for Leica's M-Mount, the miniscule Super Triplet Perar 28mm f/4. Available for pre-order through Japan Camera Hunter or Japan Exposures, the first batch of this sure to be rare lens are going for ¥55,000 (a bit over $700) a pop.
The original run of this lens (engraved typo and all) will be just 180 units, but what really sets it apart is the size. It weighs just 1.48 oz/45g, and has only three elements. Even more bizarrely, the aperture is in front of the glass, which probably makes the lens smaller, but seems to be begging to jam up. Each of these lenses is hand assembled, with a 10-blade German-made aperture, multicoated elements, and high-quality glass. And face it, no one else you know will have a lens nearly as cool as this!
[via the Phoblographer]