New Gear: Sony Unleashes H-Series Superzoom Compacts
Five new compact cameras out of Sony today, all of which pack major zoom lenses.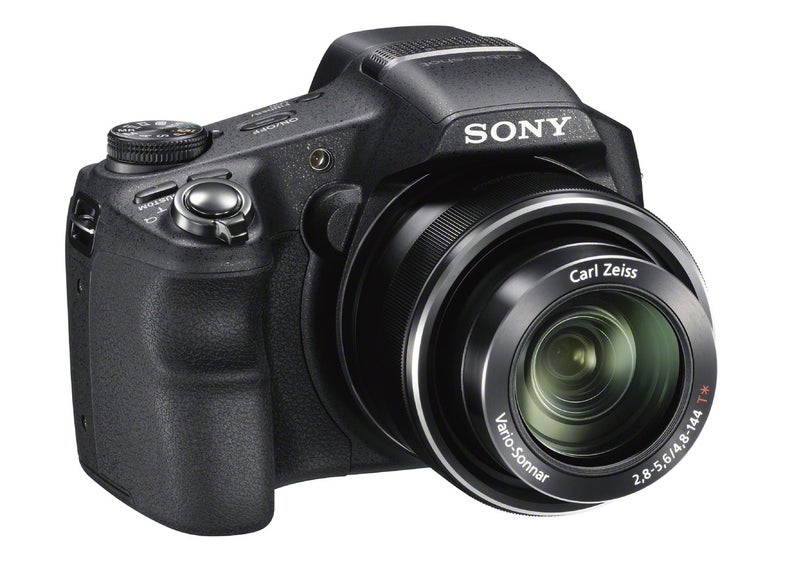 We may earn revenue from the products available on this page and participate in affiliate programs. Learn more ›
Sony has today announced the new "H-series" of Cyber-shot compact cameras, all of which carry major zoom lenses and optical image stabilization at varying price points. First out the gate is the high-end DSC-HX200V, pictured above. It has a whopping 30x (27-810mm) zoom, and is expected in March for approximately $480. It, along with the HX30V, HX20V and HX10V all have a new 18.2-megapixel CMOS sensor. Sony claims the new sensor allows faster AF speeds, 1920×1080, and the ability to record 13-megapixel stills while shooting video.
The HX10V, HX20V and HX30V (left to right above, and yes, the HX20V and HX30V are near-identical) are more pocket, and pocketbook, friendly than the HX200V. The HC10V has a 16x (24-384mm) zoom lens, and the HX20V and HX30V both have 20x (25-500mm) versions. The only thing differentiating the HX30V from the HX20V is the inclusion of WiFi, and a $420 rather than $400 asking price, and both will land in May. The HX10V is expected to go for $330 in March.
Finally, the DSC-H90 will cost a comparatively low $250, and it has a 16.1-megapixel sensor, and 16x 24-384mm zoom lens. Expect to see it on shelves in March.