New Gear: Olympus OM-D E-M5 Micro Four Thirds Camera
Olympus takes their line of interchangeable-lens compacts one step beyond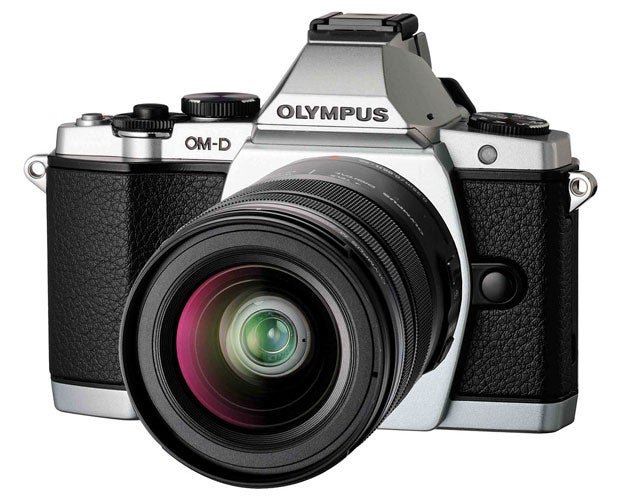 We may earn revenue from the products available on this page and participate in affiliate programs. Learn more ›
The Olympus OM series cameras have been around for roughly 4 decades, but, much like almost everything else, they have gone digital.
The boxy body plays well into the current trend of retro-styled cameras with fancy new-fangled features. Inside is a 16.1-megapixel Live MOS sensor that shifts in five directions in order to provide image stabilization. That's a first. It's paired with the TruePic VI image processing engine. That gives it what Olympus is calling an expanded dynamic range and a maximum ISO of 25,600.
Olympus claims that the new AF system is the "world's fastest." It uses the Frequency Acceleration Sensor Technology (for which the adorable acronym is, of course, FAST) that debuted in the PEN E-P3. They've turned up the volume on it, though, pulling data from the chip at 240 fps. In single shot AF mode, it's capable of pulling down 9 FPS at full resolution. The 3D AF tracking system is also equipped for moving subjects. With continuous AF, you can expect somewhere in the neighborhood of 4 FPS.
One of the big draws for this DSLR-type camera over its other PEN ILC siblings is the presence of the built-in electronic viewfinder. It refreshes at 120 FPS, so it should be very responsive. It offers 100-percent field of view (which is to be expected) and has a 1.15x magnification to help reduce fatigue.
The main display is a 3-inch OLED touch screen that tilts up and down, that also allows for touch shooting. That's a feature we like in the E-P3 and Panasonic's ILC line-up, so we're glad to see it happening here, too.
For video capture, the 5-way vibration reduction will be very welcomed, but the footage resolution falls short of the 1080p mark, opting instead for 1080i. However, you can get 60 fps out of it at maximum resolution, which should be nice for fast action or slow-motion.
Like many Olympus cameras at this level, the E-M5 is built with a fair bit of resilience. It uses a magnesium alloy frame and has internal seals to keep out damaging sand and moisture.
To complement the new camera, Olympus is also announcing a new lens in the M.Zuiko Digital ED 12-50mm F/3.5-6.3 EZ, which is similarly dust and moisture resistant.
The camera actually comes with an attachable flash that attaches to the hot-shoe instead of using an integrated flash. Like the body, it's moisture and dust-proof. While it helps keep the size of the body down, it would be nice not to have to carry around the extra piece.
Other coming accessories include the HLD-6 Battery Grip, the FL-600R Flash, which also works as a video light, and the MMF-3 adapter, which allows standard Four Thirds compliant lenses to work on Micro Four Thirds compliant cameras.
When it comes to market, there will be three different package options for this camera. $999 will get you the body only in black or silver. $1,099 will get you the body in black with the M.Zuiko Digital 14-42mm F/3.5-5.6 II R lens. $1,299 will earn the black or silver body with the new M.Zuiko Digital ED 12-50mm F/3.5-6.3 EZ lens.
Going forward, Olympus has said that they'll be releasing two more new lenses this year, including a 75mm F/1.8 and a 60mm F/2.8 macro. Pricing and specific availability on those are not yet available.
We'll share our findings as soon as we can get our hands on an official production model.