New Gear: Nissin MG8000 Flash Can Fire 1,000 Shots Without Overheating
Nissin is claiming their upcoming MG8000 flash can shoot 1,000 shots without overheating or dropping guide number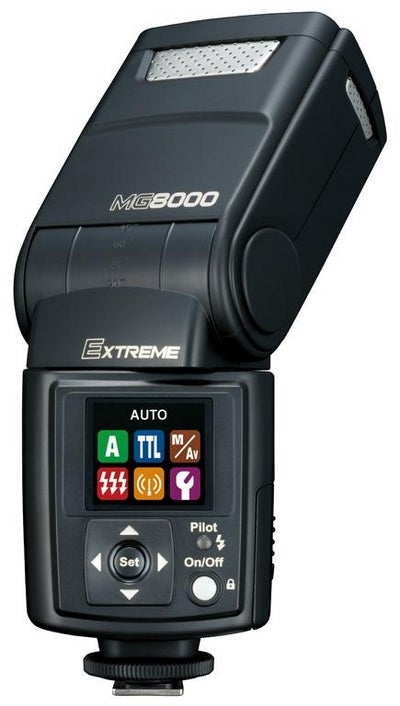 We may earn revenue from the products available on this page and participate in affiliate programs. Learn more ›
While not yet official outside of Japan, Nissin's newest flash promises to be a marathon shooter, claiming it can fire off up to 1,000 continuous shots without overheating. Shown off at this year's CP+ exhibition in Japan, the Nissin MG8000 will be able to fire 200 pops with a 3-second recycle, and then slow down to 5-7 seconds after that — but crucially will maintain its guide number throughout. Nissin says that unlike other strobes, which can drop output to prevent overheating, the MG8000 is instead designed to handle the heat better. It has ceramic insulation, a quartz-based flash tube, and a glass screen to protect the Fresnal lens from heat — it even uses air vents.
The M8000 has a guide number of 40-60m at ISO 100, has a full color display, a tilting head, wireless controls, TTL for Nikon and Canon, and external ports. It can be stepped down to 1/128 power if necessary, and it can be zoomed from 24-105mm. If the three second recharge isn't fast enough, you can hook it up to an external power source for even more grunt.
Unfortunately, we don't know how much this flash is going to cost. Estimates put it at 50,000 Yen, around $625, which is a bit higher than the Nikon SB-910 and Canon Speedlite 580EX II it's designed to compete with.
[via AmateurPhotographer, LightingRumors, Nissin]