New Gear: Kenko 400mm f/8 For Every Mount Imaginable
This glass will be available for Nikon, Canon, Sony Alpha, Pentax K, Micro Four Thirds, and Sony E mounts come next month.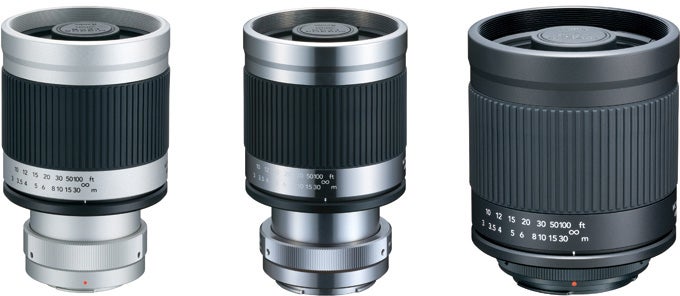 We may earn revenue from the products available on this page and participate in affiliate programs. Learn more ›
Photographers who don't use Canon or Nikon gear are often left short when it comes to third party support, but a newly announced 400mm f/8 lens from Kenko Tokina should keep everyone happy. Able to mount on Nikon F, Canon EF, Sony Alpha , Pentax K mounts (right), Sony E (middle) and Micro Four Thirds (left) cameras, you'll be able to slap it on just about every piece of modern hardware. The caveat? You need to load up a T-Mount adaptor first.
The lens is fixed in both focus length and aperture, so you'd better like f/8 and 400mm if you're going to pick one up — but with a 1:2.5 magnification feature, it could work pretty well as a macro lens. We know that the lens is set to launch February 3rd, but Kenko hasn't given out a price yet, or if it'll head to other markets.
[via PhotoRumors]