Lens test: Rokinon 7.5mm f/3.5 UMC Fisheye MFT
A fisheye for Micro Four Thirds cameras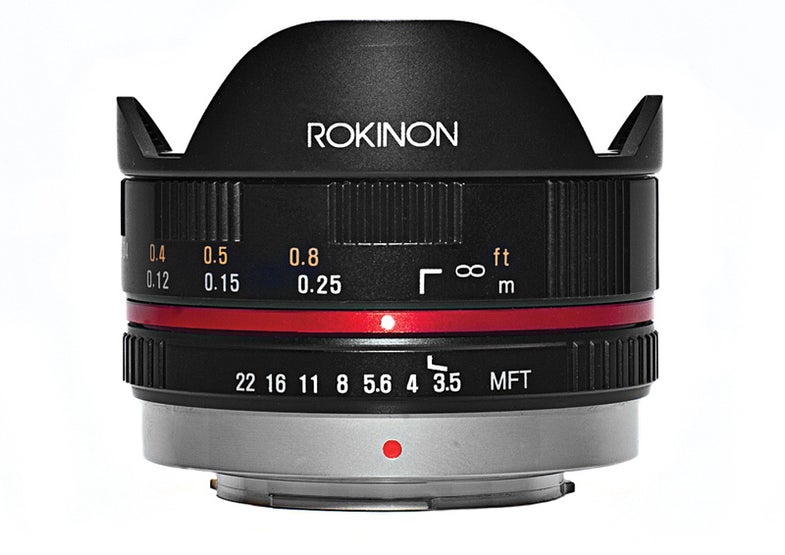 We may earn revenue from the products available on this page and participate in affiliate programs. Learn more ›
The u.s. importers of Rokinon—née Samyang—lenses continue their assault on the specialty glass market with an unexpected (but welcome) sortie into the Micro Four Thirds territory. This 7.5mm f/3.5 fisheye for Olympus and Panasonic ILCs puts an alluring price ($299, street) and distinctive imaging into a compact package that many shooters will find fun.
A 15mm full-frame equivalent, it provides an expansive 180- degree angle of view, minimal weight (6.2 oz), and a frame-filling, noncircular image—but no autofocus. In the hands, the lens feels well made, with an extremely well-damped turning action for its amply sized focusing ring. Like many fisheyes, however, it doesn't accept filters.
Attractive in matte-black (also available in silver), this Rokinon looked perfectly at home on our Olympus Pen Lite E-PL3 test camera. We appreciated the built-in, petal-style lenshood, since the front element extends beyond the barrel, making flare an ever-present possibility.
Because of the unusual nature of fisheyes, we were unable to perform our full array of optical bench tests, and we never measure distortion on optics that are designed to produce it.
This Rokinon's lack of AF was an issue only with close-focus subjects (less than 4 inches from the image plane). Closing down to about f/4 and scale-focusing just short of the infinity mark puts everything from 1 foot to infinity in acceptably sharp focus. But for close-up subjects, viewfinder magnification is a must.
In general, though, this lens was a lot of fun to shoot with—especially for video clips.
SPECIFICATIONS
7.5mm (not tested due to the special optical characterisitcs of this lens), f/3.5 (not tested), 9 elements in 7 groups. Focus ring turns 130 degrees.
Diagonal view angle: 180 degrees.
Weight: 0.38 lb. Filter size: n.a.
Mounts: Micro Four Thirds.
Included: Lens pouch.
Street price: $299.
TEST RESULTS
Close-focusing distance: 3.5 inches.
Max. magnification ratio: 1:4.53.