Lens Test: Nikon 40mm f/2.8G AF-S DX Micro
Nikon's DX Lens with FX aspirations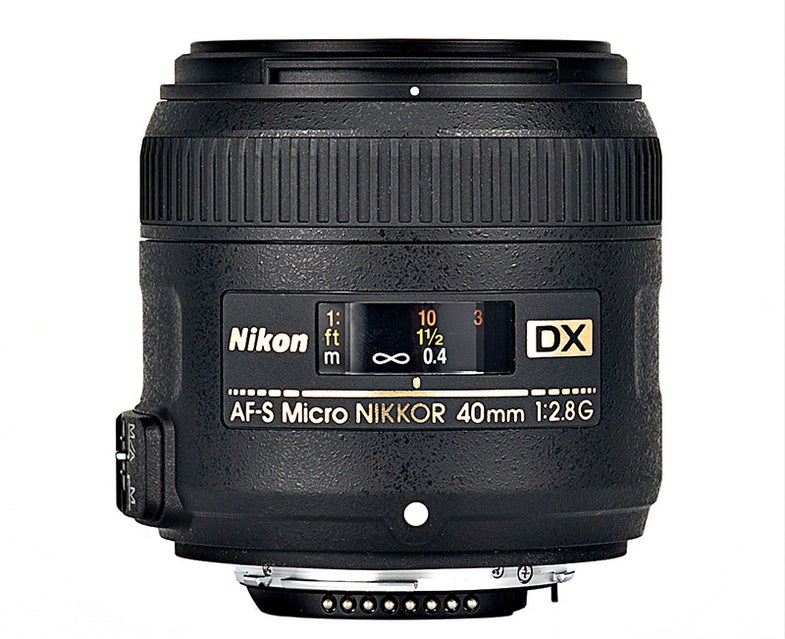 We may earn revenue from the products available on this page and participate in affiliate programs. Learn more ›
In both capability and cost, this close-up lens is a gift to DX-format (APS-C-sensor) Nikon shooters. A full-frame equivalent of 60mm, it delivers a lot for its meager $280 street price: 1:1 macro shooting, a fast f/2.8 aperture, metal lensmount, and great optics. The closest Nikkor with 1:1 subject magnification, the full-frame 60mm f/2.8, costs nearly twice as much.
This lens is compact, light, and attractive. Its focusing ring is well scaled and provides a generous turning radius for precise manual focusing—exactly what you want in a macro lens. Its turning action is even, if slightly rough. On our Nikon D7000, the autofocus was both inaudible and fast enough for all but the most active subjects. You can also focus manually while in AF mode—a desirable option.
It sports a focus limiter switch with 1:1-to-infinity and 1:2-to- infinity ranges, which is rare in a lens this inexpensive. While nice, this would have been more useful with the second option dedicated to a nonmacro range, because macro shooting distances are extremely tight: At 1:1, the front element is little more than an inch from the subject, almost inside the hood—so you may want a macro ring light. The 1:2 setting offered the closest focusing distance (about 3 inches from the front element) that allowed use of the D7000's pop-up flash without casting a shadow across the subject.
On our optical test bench, the lens delivered Excellent-range SQF scores, indicating sharp and contrasty glass. All the scores at 11×14 (our benchmark) were in the low 90th percentile—a strong showing, if slightly below that of Nikon's legendary full-frame 60mm f/2.8 macro, which consistently reached the mid-90s.
Our DxO Analyzer 4.0 tests of distortion control found Imper-ceptible-range pincushioning (0.04%) at both macro and regular focusing points—nearly perfect. At normal distances, light falloff left the corners by f/3.5, and in the macro range we found no vignetting at all. Plus, subject magnification at the closest focusing distance came in at greater than 1:1. Sweet!
With its large aperture, quiet operation, compact size, and great price, this is a perfect everyday lens with a crucial trick up its sleeve—1:1 macro power. Its near-normal focal length promises minimal perspective distortion for half-length portraits, and for close-up fans it offers almost everything Nikon's pricier 60mm f/2.8 full-frame macro does. This 40mm should appeal to many a DX shooter.
SPECIFICATIONS:
40mm (39.99mm tested), f/2.8 (f/2.87 tested), 9 elements in 7 groups. Focus ring turns 160 degrees.
Diagonal view angle: 38 degrees.
Weight: 0.55 lbs. Filter size: 52mm
Mounts: Nikon AF.
Included: Lenshood, case.
Street price: $280.
TEST RESULTS
Distortion: 0.04% (Imperceptible) pincushion.
Macro distortion: 0.04% (Imperceptible) pincushion.
Light falloff: Gone by f/3.5.
Macro light falloff: None.
Close-focusing distance: 6.37 inches.
Maximum magnification ratio:1:0.90.