Canon and VII Gallery: Capturing CHANGE with a single shot. [Sponsored Post]
Change happens over time. Sometimes, it's faster than an instant. Other times, change can take an eternity. The passage of time becomes an interesting subject if your challenge is to capture that change with a single image.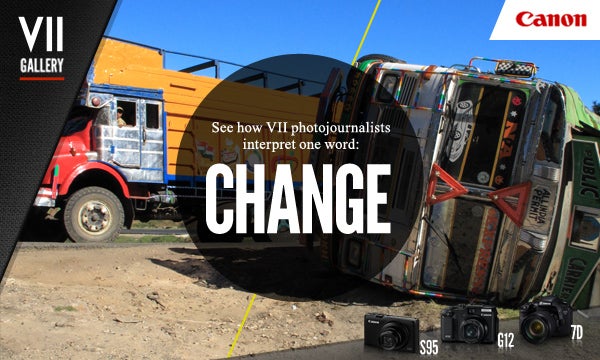 For months now, Canon has teamed up with the VII Photo Agency to create projects that will hang in the VII Gallery. And this time, we asked the group of professional photojournalists traveling the globe to do what we just described, interpret the word "CHANGE," then capture it through photography and video. Limiting each photojournalist to one, abstract word requires a bit of their creative interpretation before shooting. All photos are taken using Canon cameras, specifically the advanced point-and-shoot PowerShot S95, the mid-level PowerShot G12 or the semi-professional EOS 7D.
Why "CHANGE"? Change, we found, is a very powerful word. In one sense, change can be inspirational and hopeful, as in "It's time for change." In another, change can be reflective. "Times, they are a-changing." Then again, the idea of change can also be scary and unpredictable. The reality is, for better or worse, things change. We hoped to get a wide spectrum of interpretations by choosing this word, and we were right.
Photographs taken by the professionals are now hanging in the VII Gallery for you to browse. But it doesn't stop there. Canon and VII want to extend the project to you. Do you have a unique interpretation for "CHANGE?" Grab a camera and see if you can capture what change means to you. You might just find your project featured online.
We want photographs from everyone. Novice to expert, young to old. Change can mean so many different things to so many people, so let's see what you can come up with.
Check out the Canon VII Gallery and the projects for CHANGE at usa.canon.com/viigallery