New Gear: Casio Exilim EX-ZR200 Advanced Compact Camera
Casio's newest high-speed beast can capture 30fps at 16-megapixels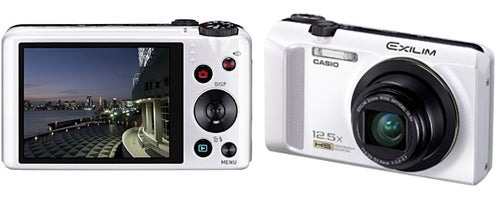 We may earn revenue from the products available on this page and participate in affiliate programs. Learn more ›
Casio's devotion to ludicrously fast image capture continues with the announcement of the Exilim EX-ZR200, the company's newest high-speed flagship camera. Set to be released in April for 379.99, the Casio EX-ZR200 can capture up to 30 frames per second of images at full resolution, that's right all 16-megapixels. The high speed image capture can be set by the user at between three and 30 frames per second, allowing you to capture that perfect shot in any action scene.
For high-speed video, you can record movies at between 30 fps (1920×1080) and 1000fps (224×64), though you'll be hard pressed to make out much detail at the tiny sliver of video the higher-end of the spectrum creates.
Casio is also doing some interesting other things with these high-speed capabilities, tapping into the camera's ability to capture images incredibly quickly and re-taming it to other uses. The camera can perform in-camera HDR for anyone who isn't totally sick of that whole trend yet. Perhaps more curious are the Blurred Background, Wide Shot and Multi Frame SR Zoom techniques. Without getting our hands on the camera, it's difficult to say how well they'll work, so here's how Casio describes them:
For those of you yearning to here more specs, the EX-ZR200 has a 24-300mm lens, with a maximum aperture of f/3.0. It uses a 1/2.3-inch high-speed CMOS, and is compatible with SD, SDHC and the new SDXC memory cards.
[via DigitalCameraInfo]