New Gear: Canon PowerShot G1 X Large-Sensor Compact
$800 gets you a larger sensor and an attached 4X zoom lens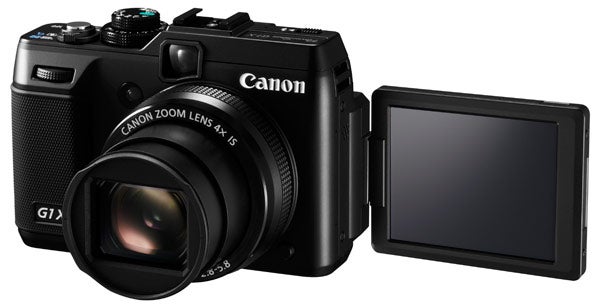 We may earn revenue from the products available on this page and participate in affiliate programs. Learn more ›
It doesn't look all that different from the G-series cameras that came before it, but the G1 X is an entirely new animal in the Canon stable. The G12 will still live on in the line-up — similar to the way the S95 and S100 co-exist — but the G1 X is clearly the new top dog in town.
First things first, the lens is attached to the camera. So, that means that even though it has a new 1.5-inch sensor inside, there's no need to fret about crop factor or lens compatibility for a new camera system. The camera is a system within itself.
The High-Sensitivity CMOS sensor measures 18.7 x 14mm, which places it squarely in the fray that's currently playing out in the space between tiny compact sensors and the APS-C models found in many DSLRs. It's actually bigger than the sensor found in Nikon's 1-series cameras and even Micro Four-Thirds cameras.
The sensor is, of course, paired with Canon's relatively new Digic 5 processors. Combined, they offer a maximum ISO of 12,800, which they're promising will look a lot better than it would on the average advanced compact. It also does 1080p video, which you had probably already guessed by now.
The integrated zoom lens is a 4x with a maximum aperture of F/2.8-F/5.8 and a full-frame equivalent zoom range of 28-112. That should make it feel extremely familiar to those who use the common 5D Mark II and 24-105 F/4L IS combination. It uses Canon's hybrid IS technology (Canon only does optical IS) in order to keep things sharp, even at the longer focal lengths.
The back of the camera is equipped with a 3-inch vari-angle LCD with a resolution of 922,000 dots. It's not a touch screen, but there are plenty of tactile dials and buttons to handle the familiar Canon navigation system.
When the G1 X comes in February, it will cost $799, which means it will also bring with it features you'd expect out of a high-end compact like a hot shoe, an optical viewfinder and 14-bit RAW capture.
It would've been nice to see wireless flash control (like the kind built into the 7D and 60D DSLRs) built into the pop-up flash, but perhaps in the next version.
We'll be doing some hands-on coverage of the G1 X from the CES show floor, so look for that soon. What do you think of this new breed of super high-end compacts like the Fujifilm X10 and the G1 X? Do you need interchangeable lenses?