New Gear: 11-16mm Tokina AT-X 116 Pro DX II
An update of the already popular 11-16mm from Tokina, the DX II packs a focussing motor so it'll work with all Nikon bodies.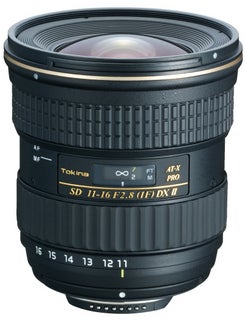 We may earn revenue from the products available on this page and participate in affiliate programs. Learn more ›
Tokina has just announced an updated version of their well regarded 11-16mm Pro DX, one which brings more functionality to more camera bodies. Dubbed the Tokina AT-X 116 Pro DX II, the new lens has only officially been announced in Japan, but shouldn't be too long before it heads to western markets. For now, it appears to be for Canon and Nikon APS-C cameras, and the big change is that it comes packing a 'Silent Drive-Module' (SD-M) focus motor. That's right, if you have a Nikon SLR without a built-in focusing motor, then you can still use AF on this new Tokina lens. It also features new coatings, and faster autofocus.
The Japanese announcement pegs the Nikon version of the lens is set to launch in March, and the Canon in July, and DPReview's USA contact says April and August respectively. Its predecessor was also available for a Sony mount, so we'll see if Tokina goes that way with the new one, too.
The big talking point on this lens is the price. With an announced sticker of a whopping ¥90,000 (almost $1200) that's putting it into very high-end territory. In fact, the original DX lens is going for just $609 with an MIR. While that is an extremely high asking price, it's the same as the official list cost of the original, so hopefully the new one will drop to a similar level quickly.