Nikon 1 Firmware Update Adds F-Mount Adapter Compatibility
You can finally frankenstein your old Nikkor lenses onto your new Nikon 1 body.
We may earn revenue from the products available on this page and participate in affiliate programs. Learn more ›
While the Nikon Mount Adapter FT1 hasn't hit stores yet, a new firmware update for the J1 and V1 adds compatibility for the accessory. Version 1.10 of the firmware adds support for the mount, which will let you plug Nikkor F-mount lenses into your tiny new 1 series camera. Running a lens through an adaptor mount onto a tiny sensor means the crop factor is a whopping 2.7x 35mm, so you'll suddenly have a lot more zoom for your lenses.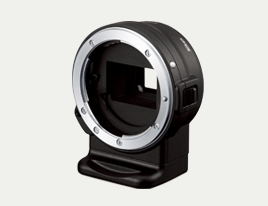 There are also a laundry list of minor inconveniences and incompatibilities, which may or may not be an issue. For instance, if you have an AF-S lens, autofocus will work, but only when the focus mode is set to a single-point in the center of the lens, and is on AF-S mode. Some other warnings include:
Autofocus may be less precise when S: Shutter-priority auto, A: Aperture-priority auto, or M: Manual is selected for Exposure mode. Focus manually if you have trouble focusing using autofocus.
Lines may appear in photographs taken with non-CPU lenses stopped down to minimum aperture.
The tops and bottoms may be missing from circular bokeh shapes created at wide apertures using lenses with a maximum aperture of f/1.4 or f/1.2.
In its favor, the mount adds instant compatibility with more than 60 lenses, which is nothing to scoff at. We don't know what the mount will cost, but it's pegged to launch in Japan before the end of the month.
The new firmware also adds support for pixel mapping on the Nikon J1 and V1.
[via Nikon Rumors]