New Gear: Leica V-Lux 3 Compact With 24x Zoom Lens
$950 will get you the equivalent of 25-600mm and that swanky red dot starting in January 2012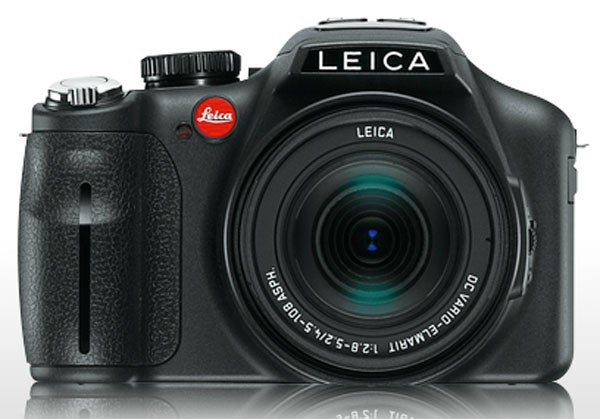 We may earn revenue from the products available on this page and participate in affiliate programs. Learn more ›
Whether you call them bridge cameras, super-zooms or "all-in-one cameras" as Leica seems to have chosen, the crowd of long-lens compacts continues to thicken. The latest addition comes from Germany in the form of Leica's $950, 24x zooming V-Lux 3.
Like a lot of other cameras in this segment, including its predecessor, the V-Lux 2, the V-Lux 3 takes a form similar to a very small DSLR. The integrated Leica DC Vario-Elmarit 4.5-108mm F/2.8 – F/5.2 ASPH lens has a 35mm equivalent of 25-600mm.
Behind the glass is a 12.1-megapixel CMOS sensor capable of pulling down 12 full-resolution frames in a single second. If you're willing to drop the resolution to 3.5-megapixels, that number shoots all the way up to 60 fps.
On the video front, you get 1920 x 1080 footage at 60 fps in AVCHD format. The full zoom range is available during motion capture and it has a built-in stereo mic with wind noise filter to cut down on mother nature's interference.
The three-inch LCD display has 460,000 pixels and pivots, which is always nice on a super-zoom like this, since it will often likely find itself on a tripod.
The $950 price point is undeniably high — it's well into higher-end ILC category at this point — but that shouldn't really come as a surprise. That price also includes a copy of Adobe Photoshop Elements and Premiere Elements, a combo that usually costs $150, so there's more value in it if you're just getting started. Look for it to start hitting shelves in January 2012. Of course, this camera shares the vast majority of its components with the Panasonic DMC-FZ150, which you can get right now for under $400, so do with that information what you will.