CompactFlash Announces XQD, a New Card Format
With 125MB/sec, CompactFlash hopes to target high performance shooters.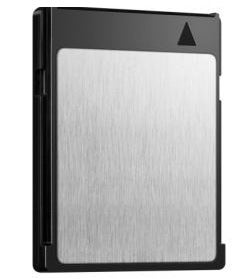 We may earn revenue from the products available on this page and participate in affiliate programs. Learn more ›
For years, CompactFlash was the memory card of choice for serious photographers, and is still used in many DSLRs, especially at the higher level. But, SDHC has been muscling in on that territory. So, CompactFlash has announced a totally new, faster card format, dubbed XQD. As far as we can tell, XQD doesn't actually stand for anything — or if it does, the CompactFlash Association hasn't said. The new format is based on the the PCI Express specification, and at 38.5×29.8×3.8mm, it's smaller than CF but larger than SD.
The real selling point is the high write speeds, which the CompactFlash Association is pegging at 125MB/sec or higher, with a theoretical limit of 640MB/s — high enough speed for even the most intense high-speed photography and ultra-high resolution video. There's no information on much data these cards will hold or when they're expected to hit the market, but the CFA is promising more information at their booth at CP+ in Japan in February. Hopefully they'll also have a presence at CES, and give a few more details then.

[via TechCrunch]