Sponsored Post: In Pursuit Of Imaging Perfection
A serious shooter's hands-on experience with the Canon EOS 7D and the high-performance EF 70-200mm f/2.8L IS II zoom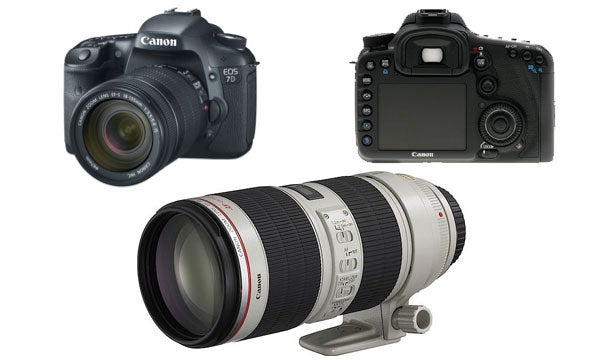 As a long-time photo enthusiast who supplements his income by shooting portraits and events, I gravitated to the Canon EOS 7D because of its rugged, weatherproof, magnesium-alloy body, pro-spec 150,000-cycle shutter, and its hi-res 18MP sensor that's renowned for delivering superb imaging performance up to ISO 6400 and beyond. Another big plus is its ability to shoot bursts at a blistering 8 frames-per-sec, great for high-speed action, but also for capturing memorable moments such as the bride and groom walking down the aisle or having their first dance. It didn't take me long to discover a lot of other reasons to love this camera. It's handy size, excellent balance and ergonomic controls make it an easy all-day shooter, its big 3-inch, 920k-dot LCD lets me assess the finest details, and its brilliant eyelevel pentaprism finder facilitates precise composition and provides a big, bright approximately 100% view.
For me, one of the camera's most useful features is the incredible choice of AF Mode options offered by its 19-zone AF system. The one I use most frequently is AF Point Expansion that highlights 4 points around the selected point and lights them up in the finder, making it much easier to track moving subjects. Shooting HD video at 1080p at 50/60p couldn't be easier—just set the control on the back to video and push a button! Also, the versatile built-in flash can be used as part of a multi-flash setup, or to trigger my Canon Speedlite 580 EX IIs, all without requiring any extra accessories.
One of the great joys of shooting with the Canon EOS 7D is using it with the remarkable new Canon EF 70-200mm f/2.8L IS II USM. This acclaimed high-speed zoom is the perfect complement to the APS-C-format EOS 7D, covering an equivalent focal-length range of 112mm to 320mm. That makes it ideal for everything from portraiture, where its gorgeous bokeh at wide apertures yields beautiful pictorial effects, to sports and wildlife, where its enhanced image stabilization (IS) eliminates the effects of camera shake, delivering a critical 4-stop advantage that's crucial when I'm shooting handheld at long focal lengths. Its close minimum focusing distance (3.9 feet) also allowed me to get down to 1/5 life-size at 200mm to create stunning close-ups. Like all Canon L-series lenses it delivers exquisite sharpness, rugged, pro-caliber construction, and it's sealed against moisture and dust so I can confidently take it wherever I take my Canon EOS 7D. Ultimately, there's really only one way to experience what it's like to shoot with this cutting-edge combo, and that's to try it for yourself.