Lens Test: Canon EF 8–15mm f/4L USM Fisheye
Canon gives us 180 reasons to like this lens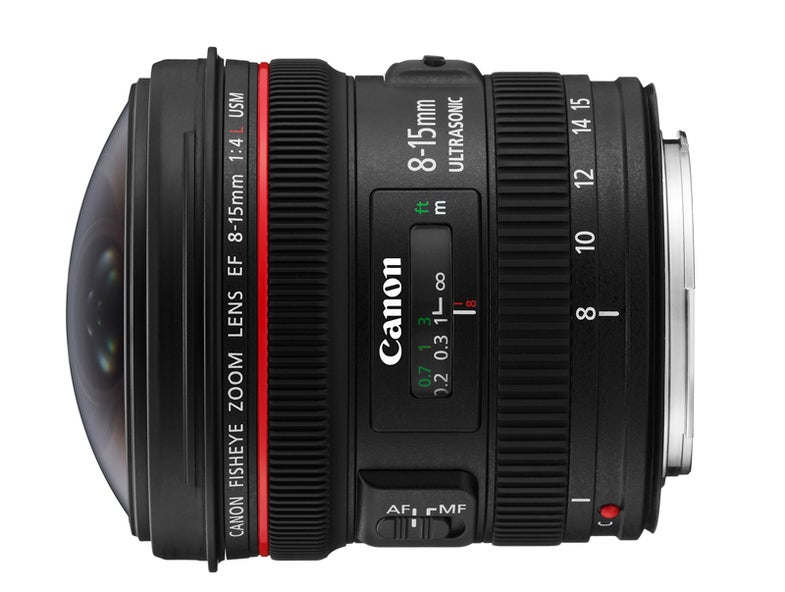 We may earn revenue from the products available on this page and participate in affiliate programs. Learn more ›
This is the world's widest full-coverage fisheye zoom and the only such zoom in Canon's catalog. The 8–15mm f/4L ($1,500, street) offers 180-degree views on all EOS bodies, and, uniquely, on full-frame EOS models it can produce both circular and full-coverage (corner-to-corner) fisheye images.
Canon has taken pains to take this lens cross-platform. Equally at home on full-frame, APS-H, and APS-C EOS bodies, it's compatible with all Canon bodies going back to the dawn of the autofocus era.
With full-frame sensors, this lens produces everything from crisp-edged, conventional, full-coverage pictures at the long end of the zoom range to black-framed, completely circular images as you zoom out. On cameras with smaller sensors, however, crop factors make fully circular images impossible, and the result is edge vignetting.
To resolve this and offer Rebelistas vignette-free shooting, Canon added a focal-length-limiter switch. This shrinks focal-length range from a nearly 1.9X 8–15mm to a 1.5X 10–15mm. Engaging the switch brakes the zoom ring at 10mm, thus preventing inadvertent dark corners. Still, APS-H camera users will experience darkening out to 12mm, so Canon went a step further and inscribed the zoom ring with C and H index marks—the zoom settings at which edge darkening is eliminated for each sensor type.
The zoom is compact by L-series standards. At 1.2 pounds (with the removable, but not reversible, hood), it measures 3.6 inches, slightly smaller than Canon's popular 17–40mm L-series lens, also an f/4.
Other traits that added to our field experience: the seamless shifting between auto- and manual focusing, extra weather resistance, and a tight, 6-inch close-focusing distance with its macro-ready 1:2.6 maximum subject magnification—great for playing with wild perspective distortion.
As with all fisheyes, this one's front element bulges out in front of the barrel's front rim, rendering the lens susceptible to flare. To prevent this, Canon provides a lens shade. The shade, however, is visible in the finder at most focal lengths on full-frame cameras.
Unfortunately, full-frame shooters can't jettison the shade altogether, because it's required to attach the lens cap.
Due to the unusual nature of this lens, we couldn't run most of our standard optical bench tests. Its field test shots, however, were sharp, contrasty, and overall very satisfying, with flare well controlled.
Not for everyone, but Canon fans of ultra-wide, ultra-close imagery will be thrilled with this beauty. Wedding and DSLR video shooters should take a look, too.
SPECIFICATIONS
8–15mm (n.a. tested*), f/4 (n.a. tested*), 14 elements in 11 groups. Focus ring turns 120°. Zoom ring turns 80°. Focal lengths marked at 8-, 10-, 12-, 14-, and 15mm.
Diagonal View Angle: 180–175 degrees.
Weight: 1.21 lb (with hood).
Mounts: Canon AF.
Included: Lenshood, case.
Street Price: $1,500.
FOR INFO: www.usa.canon.com.
TEST RESULTS
Close-focus Distance: 6.08 inches.
Maximum Magnification Ratio: At 8mm, 1:5.09. At 12mm, 1:3.42. At 15mm, 1:2.59.