Justin Olsen Shoots Amazing Mountain Bike Photos With a Chest-Mounted DSLR
Helmet cams have nothing on a full-blown DSLR strapped to the chest of an athlete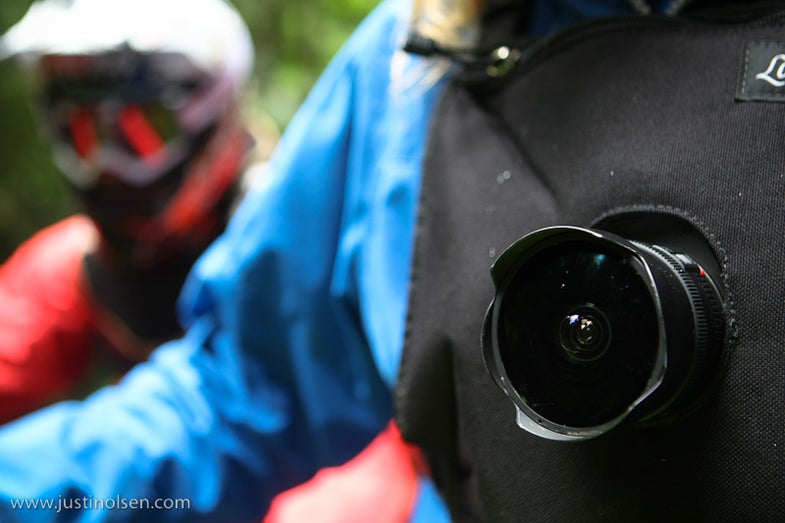 Helmet cams are a great tool, but when it comes to image quality and available controls, they can't come close to a good compact camera, let alone a full-blown DSLR. That's why photographer Justin Olsen decided to create a custom rig for his own big boy cameras and then head out to the mountain bike trails to capture some truly exciting images of the sport. Justin agreed to share some info about the rig with us, as well as a couple photos taken with the set-up.
How long have you been using the custom mount?
I have been using my case for about a year and a half now.
Where did the idea for it come from?
The POV angle is nothing new and I have seen many photographers rig up all types of contraptions to accomplish this in the past. In MTB photography circles, I had heard of everything from duct tape to old bike tubes used to secure a camera to a riders chest. Some pretty sketchy set-ups for sure. I had been fooling around with hanging the camera around my neck and sticking the lens through a hole in my jacket. Through trial and error, I came up with the idea for my current rig. A few months later I was approached by Camelbak with an assignment for some custom POV images of one of their team riders hitting some fairly big bike jumps. In order to accomplish this I was going to have to put my camera in a very risky situation and that motivated me bring this idea to fruition.
Who made it for you?
I took my idea to a local custom sewing shop, gave them all the details, and they made it for me.
Is it comfortable to wear?
Yes, but more importantly, it is very secure. It is imperative that the harness doesn't move around while the rider is moving, especially in a jumping situation. Adding weight to a riders chest changes the scenario for them. The last thing they want is to have a 10-pound weight swinging from their chest while riding down the trail.
What's the typical camera set-up you run inside of it?
My current typical set up is a 15mm fisheye on either a Canon 1d Mark III or a 5d Mark II depending on the situation (higher frame rate vs. a wider field of view, respectively). There is also a Pocket Wizard attached to the camera so I can trigger the shutter remotely.
Have you tried it with other lenses besides the fisheye?
Yes, but for my purposes the fisheye produces the best results.
**Has anyone taken any spills wearing it? If so, did you lose any of your gear? **
No one has wrecked while wearing it yet (knocking on my wooden desk right now). I actually hit some jumps with it on my chest to test out how it felt before I put it on anyone else. As long as everything is tight it really doesn't bother you. However, you do have to remember not to pull your handlebars close to your chest in the air because the rig does hang out a little way. It would be really bad to get your handlebars caught up in it mid-air.
Where have the images taken with it ended up?
I have included POV shots in most of my magazine submissions this year. Camelbak ran some of the shots I did for them in various ad materials last season, including on the home page of their website. I was invited to compete in the Deep Summer photo challenge at Crankworx in Whistler, BC this summer, and I used this rig a lot during that competition. One of these photos is also nominated for Photo of the Year on Pinkbike.com which is biggest website on the planet for all things MTB. To date, I have mainly used this set up for mountain biking, but am planning on experimenting with skiing, snowboarding, and snowmobiling this winter.
For more of his work, you can check out Justin's website, follow him on Twitter or Like him on Facebook.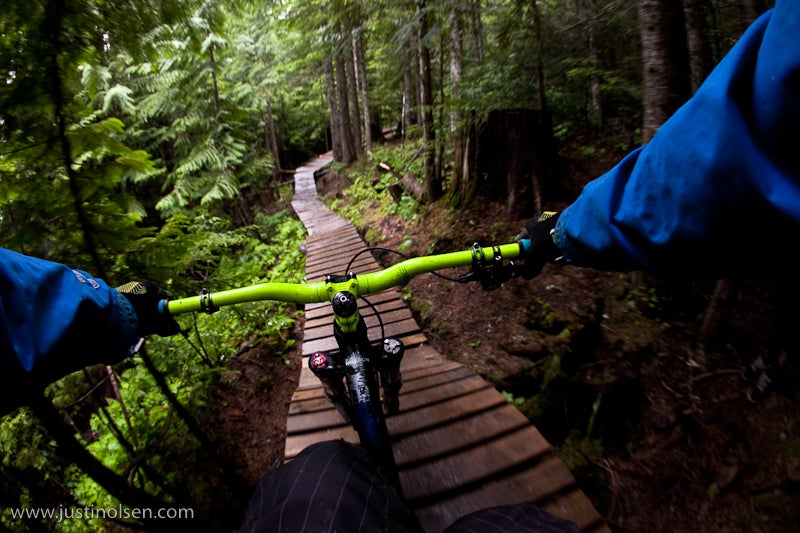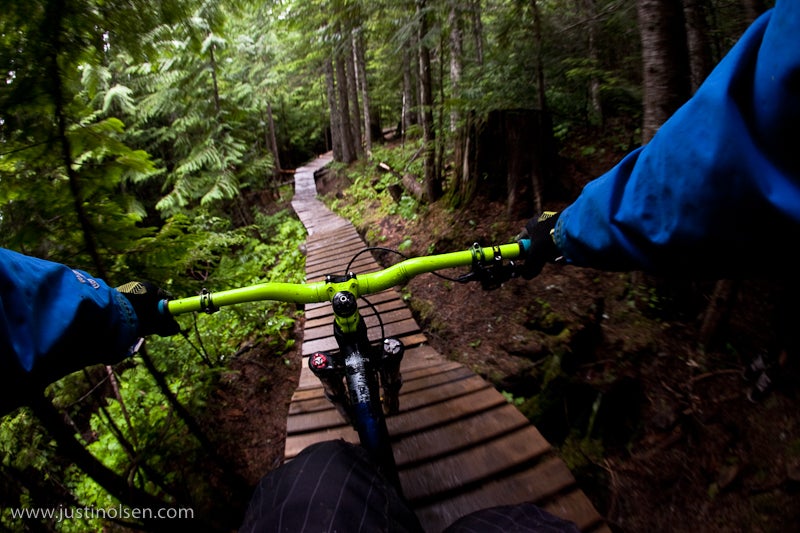 DSLR Chest Mount Main