Canon and VII Gallery – What does CHANCE mean to you? [Sponsored Post]
What comes to mind when you think of the word "chance"? More specifically, what images come to mind? These are some of the questions Canon and the VII Photo Agency have posed to professional photographers, and to you.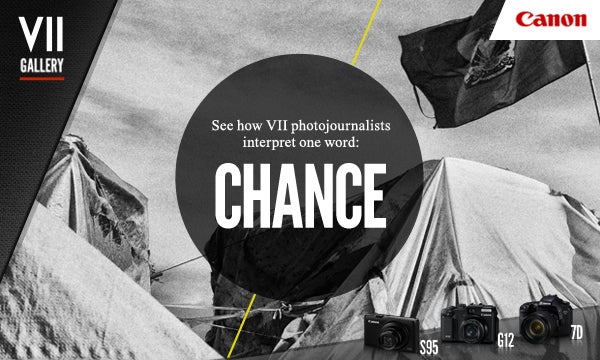 Canon recently teamed up with the VII Photo Agency to create an exciting new project called the VII Gallery. This group of world-renowned photojournalists were asked to interpret, through photography and video, a single abstract word. The first project was for "CHANCE" and the photo projects are being displayed in this exciting gallery. The photojournalists used Canon's cameras to shoot photographs and video, specifically the advanced point-and-shoot PowerShot S95 and PowerShot G12 cameras and the EOS 7D SLR.
Canon specifically chose the word "chance" to give photographers an emotional canvas for their shots. "Chance" could conjure up feelings of hope and opportunity or it could be interpreted as coincidental, unplanned or risky. Webster's Dictionary defines "chance" as "something that happens unpredictably without discernible human intention or observable cause." The photographic opportunities are boundless.
This photo project isn't just for the VII Photo Agency. Canon and VII have also extended the photography project to you, the aspiring photojournalist. Take a few minutes to think about what "chance" means to you, then grab your camera and start shooting. Your work could be featured in the online Gallery.
Whether you're in a big city or a small rural county, novice or a seasoned professional, don't miss this exciting opportunity to submit your interpretation of "chance." There's a chance it might hang alongside work from the professionals.
Check out the Canon VII Gallery and the projects for CHANCE. Visit: usa.canon.com/viigallery